Chrissy Teigen gave birth to Baby No. 2, and Twitter is overcome with emotion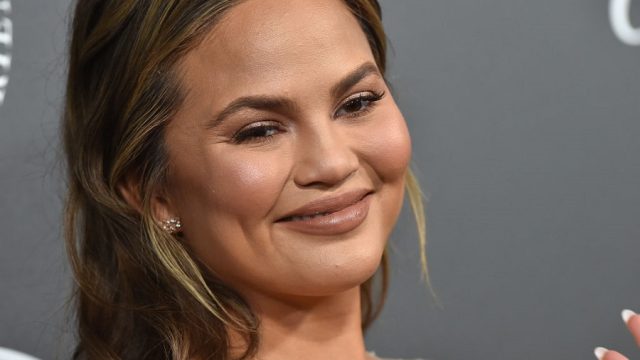 Major congratulations are in order for Chrissy Teigen, who just welcomed her second child with husband John Legend — a baby boy! She announced the news late at night on May 16th, tweeting, "Somebody's herrrrrrre!" with baby bottle emojis and happy faces. Teigen didn't share anything else about the newborn, like stats or name, but we're sure that more info will come in due time.
The news comes as a bit of a shock, since Teigen said on The Ellen DeGeneres Show that her second child was due in June. So it seems he arrived just a little early, making it unclear if she had time to get that epidural-numbing bikini wax she tweeted about wanting. Nevertheless, we're hoping her son is happy and healthy, and are eagerly awaiting pictures of him.
Teigen's fans were all about the news on Twitter. One of the funniest exchanges happened between someone who asked if "Somebody's herrrrrrre!" meant that Domino's pizza was at the door. (Since even with the emojis, we wouldn't be shocked if Teigen tweeted the news out as a joke.) Someone said it was actually "Digorno," indicating the frozen pizza with a big typo. The brand itself piped in, as they're obviously fans of Chrissy. (Who isn't?)
The people behind DiGiorno weren't the only ones excited about Teigen's announcement. Twitter exploded with happy blessings and endearingly funny statements.
Here are just a few of the best tweets about Chrissy Teigen's big news.
false false
https://twitter.com/udfredirect/status/997044174326325248
https://twitter.com/udfredirect/status/997101308434771968
Some people looped in the Laurel and Yanny debate that people can't stop talking about, which Teigen openly stated she was done with.
And similar to the Domino's guy, some people tried hard to keep the joke going.
But one of our ultimate favorites was this tweet, since…well, it's self-explanatory.
We can't wait to hear more about Baby No. 2. For now, we hope Chrissy has a relaxing recovery, and that sweet Luna's enjoying her little brother.