Chrissy Teigen doesn't want you commenting on baby Luna's diaper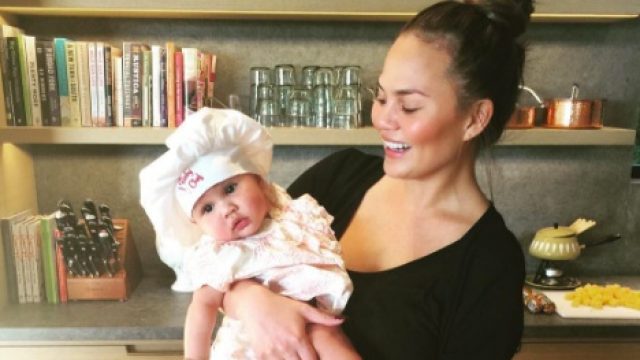 Being a celebrity mom sounds tricky for many reasons — not least of whichbecause people on the internet like to comment on (and criticize) each and every moment of your life.  We're talking about Chrissy Teigen and her sweet daughter Luna, who is often photographed on Instagram. And because of that…there are comments about everything; her clothes, what she's eating, how Teigen is holding her, ETC.
And for better or worse, Teigen has come to expect comments and criticism from the public on how she's parenting her child — which is why she totally preempted them in her most recent Insta post.
Basically, she's politely telling her followers to please leave the diaper alone. That's off limits, and totally understandably so.
"This diaper is never not blue so don't even start with me."
via giphyWe can totally understand where Teigen is coming from, and appreciate the humor and honesty of her post. Motherhood is HARD, and sometimes (aka most times) that diaper is gonna be wet. And it's in no way a reflection of the parenting. Basically, girl has every right to squash those unwanted remarks before they come flooding in.
Also, Teigen is clearly a brilliant mom who deserves some peace while she raises little Luna with her hubby John Legend.
Not to mention, Luna needs her peace, too! She's just trying to be a baby and live her best life!
The good news is, Teigen seems like the chillest person on the planet, so if anyone can ignore the haters, it's her. Now, more pictures of adorable baby Luna PLEASE!