Chrissy Teigen's baby bump (and her new bangs) made their red carpet debut
Chrissy Teigen just made her first red carpet appearance since announcing she's pregnant with her second child, and gave fans a glimpse of her baby bump. Teigen played ~plus one~ to her husband John Legend, who was honored at the Smithsonian Magazine's 2017 American Ingenuity Awards held at the National Portrait Gallery in Washington, D.C. on November 29th.
Teigen wore a floor-length, long sleeve dress that she cinched above the waist to reveal just the slightest hint of a bump. Earlier that day, she got a tour of the Smithsonian while rocking a black sweater dress. Today, November 30, is also her birthday which makes this a triple celebratory occasion — baby bump debut, birthday, and Legend's award.  Oh wait, she's also celebrating a fourth thing: THOSE BANGS. Teigen got bangs around the time she announced that she was pregnant, and we love seeing a good fringe out in the wild. She paired the bangs with a top-knot for the night out, which is one of our fave ways to style classic fringe.
Teigen announced her pregnancy earlier this month in an Instagram video featuring Luna pointing to her belly and saying "baby!"
Even though Legend isn't the pregnant person in this duo, isn't this couple positively glowing?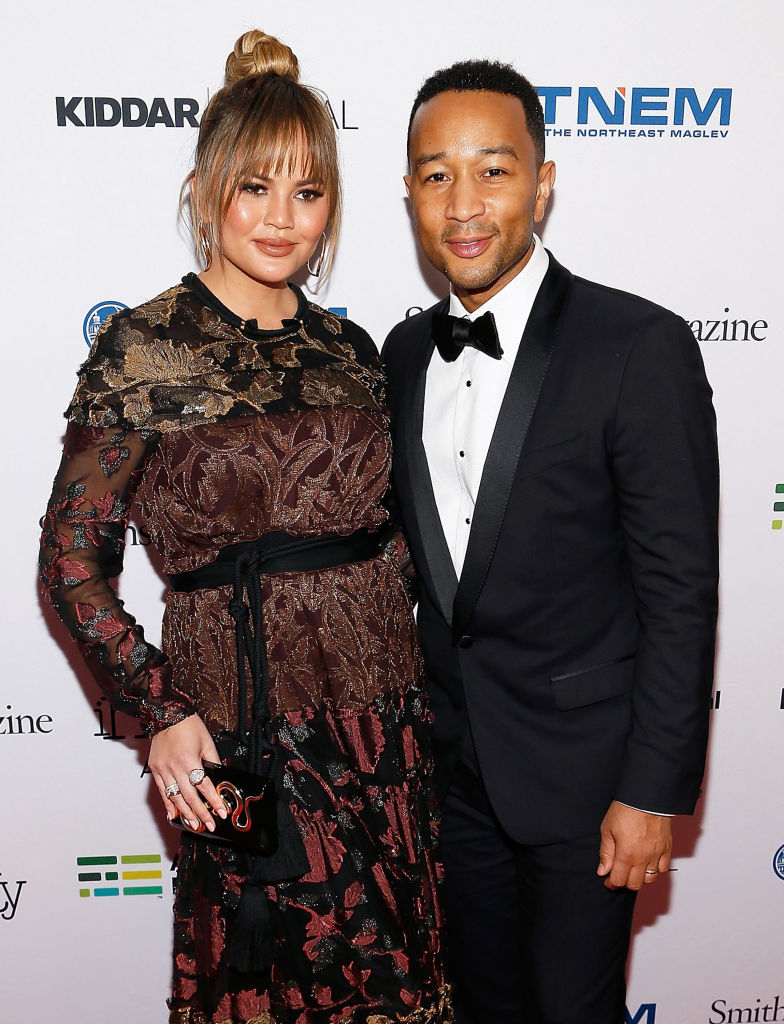 Over the summer, Chrissy told E! News that she couldn't wait to be pregnant again.
"I probably think about it more than anybody. I cannot wait to have the biggest family. Nobody really pressures me," Teigen revealed at the time.
Teigen has been open about her IVF treatment in the past, revealing at the Screen Actors Guild Awards earlier this year that she saved her male embryo for this pregnancy. Little Luna will have a baby brother, and we can't wait to see them together.