Chrissy Teigen tells us the best meals she's eaten while traveling and what foods she craves on her period
It's easy to live vicariously through Chrissy Teigen's Instagram — whether she's traveling to Bali or eating gourmet cuisine that she cooks herself (which we can also do via her cookbook, Cravings). And if you've got a Chase Sapphire card, you'll be able to vacation just like Chrissy through her travel itineraries, a new feature the company is launching later this year.
At the Sapphire Sundays event at Venice's Rose Café, the Lip Sync Battle host talked to the crowd about the three itineraries, which are themed around traveling with a baby, a romantic getaway, and living like a local.
She also shed some insight on her upcoming followup to Cravings. Inspired by her recent travels, Chrissy's new recipes will be Mediterranean-influenced. "More couscous salad, rather than lasagna," she explains. She also likes the challenge of cooking vegetarian meals — so expect more veggie-based recipes in the book. But fear not: "There's still a lot of bacon involved," she promises.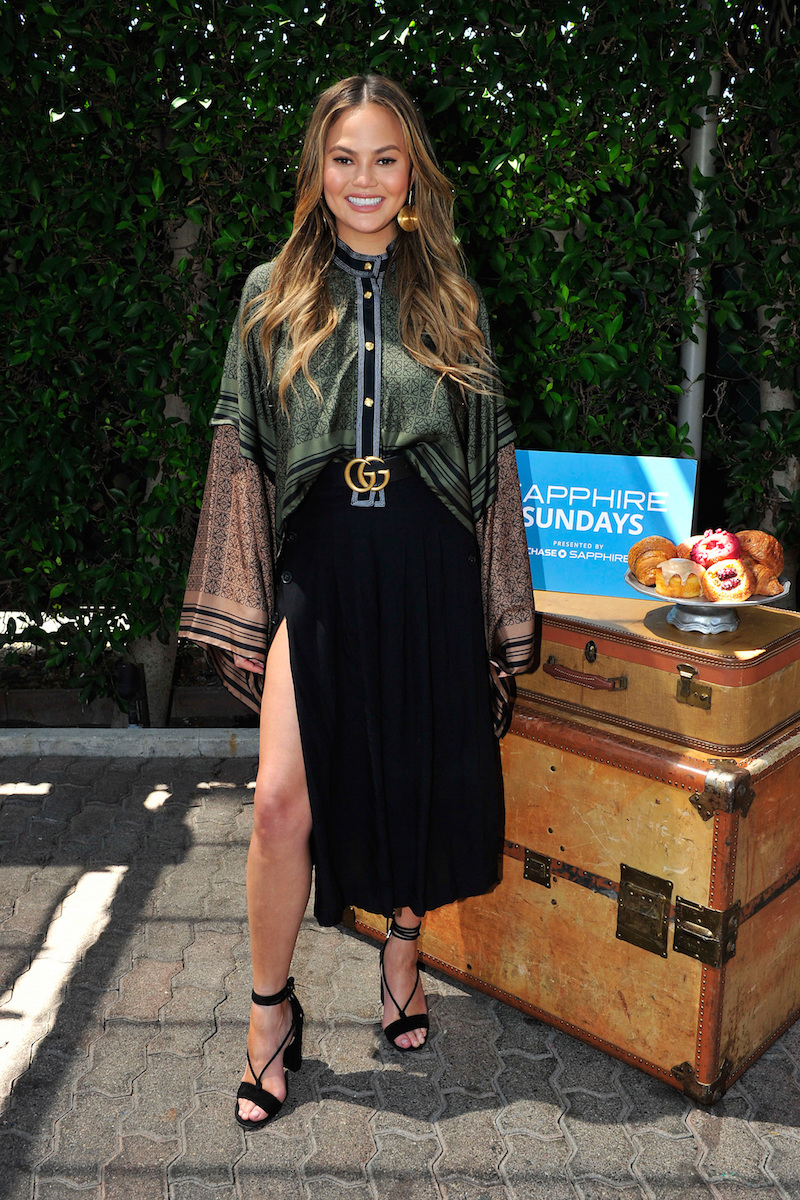 We chatted with Chrissy to get her pro tips for packing, her in-flight skin care routine, and what food she craves when she's on her period.
HelloGiggles: What's the best tip you can give people to help them "travel like Chrissy?"
Chrissy Teigen: I'm an early packer, because I'm notorious for forgetting something really important. I love to put together lookbooks of outfits to wear because once I'm on vacation I tend to get very, very lazy. I don't want to rip things off the hanger and have to try things on. So my stylists put together full lookbooks of what we think I should wear — the shoe, the pant, the hat, everything. And you can just flip through and be like, "Okay, I want to wear this today." You can save yourself some time by making those outfits and putting them in a garment bag together. It's so easy.
HG: What are your favorite meals that you've had while traveling that you long for at home?
Chrissy: Oh, God. There's a baked eggs ragu at Frank in New York that has this beautiful sausage and meatballs stewing in tomato sauce. They have two eggs baked in it, and then you kind of just scoop it up with this hash brown that comes with it. It's so, so good. I crave that all the time. I also crave rice porridge from Thailand, but my mom also makes fantastic rice porridge so I can luckily have it recreated here. I always find myself missing food from New York or from New Orleans — beignets from Café du Monde. I miss Kansas City barbecue.
HG: Do you have a comfort dish that you like to make after coming home from a long trip?
Chrissy: My mom's scalloped potatoes are my number one. It's just been the same dish since I was four or five years old, and always tastes the same. It reheats really well so I end up eating it all week, and my dad comes over, he loves it. It's just hearty and delicious and spells comfort, honestly.
HG: Do you have certain foods you like to make when you're on your period or PMSing?
Chrissy: I don't get into sweets and stuff when I'm PMSing.  I just want junk food stuff.
HG: I'm more into salty foods.
Chrissy: Yeah, I want salt. I find myself eating Cup O' Noodles a lot more. It's like, what is the most sodium I can pack in? What else do I love? Hot soups because my cramps get crazy, crazy bad. Tuna casseroles. Anything really warm and satisfying, I love. But a lot of times during many parts of my period I'm pretty nauseous, so when that dies down I get hungry.
HG: What's one of your favorite traveling memories?
Chrissy: I used to love doing road trips with my parents, driving down to Circus Circus in Las Vegas, and watching all of the animals. I'd get in trouble for sitting on the stairs while my mom was gambling. I remember my parents taking us to Bangkok when we were little and exploring the wilderness, playing Jenga with the girls in the bar. Now my days are a little mellow, but there's still a bunch of experience that I'm like, "I can't believe this is happening." But I will say that in my younger travel times, when I was still really wide-eyed and excited, those were really fun. And any time John and I get to go to Tokyo we have the most epic time because it's so crazy-beautiful, and so wonderful out there, and you learn so much.
HG: I know you like face masks when you're on flights. Are there any specific brands that you always use?
Chrissy: I tend to lean towards SK-II, though Dr. Diamond, my facialist, has these masks that come in little test tubes that you keep in the refrigerator. But I usually stick with SK-II masks, the under-eye ones. They come out soaking wet in this extra serum that I'll apply on my arms so it doesn't go to waste, but after about 20 minutes it's completely dry on me. I'm very dry so when I take it off, it's fantastic. Lately, I've been doing a lot of lip treatments and doing those little lip masks.
HG: What places haven't you traveled to yet that you're dying to go to?
Chrissy: I've never been to Tahiti or Fiji, and I'm honestly not a beach girl, but I would love to see them for a little bit. I also really want to do cabins. I want to go to Aman in Utah in the red, beautiful canyons. It's insane. I also want to go to the cabins in Jackson Hole, also by Aman. And I want to do an Americana tour in an RV, that would be like a dream of mine. But I am trying to take Luna on her first safari once she learns all her animals. She's got about five or six down right now, so I want her to know all of them. We are gonna go to Kenya to see the animals. She'll be so excited.
Learn more about Chase Experiences here and follow Chrissy's Instagram here.