Chrissy Teigen only has one name idea for her baby boy, and it's amazingly inappropriate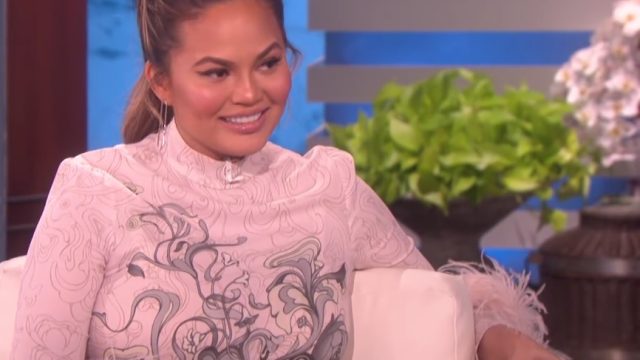 Chrissy Teigen's due date is a mere few months away. And while a baby boy will be joining the family, Teigen still isn't so sure about his name.
Teigen appeared on The Ellen DeGeneres Show to chat about the baby and gave her a little bit of insider info. She confirmed that he'll be arriving in June, and noted that she doesn't know if she'll be able to choose a middle name since deciding on a first has been so hard. Lucky for Teigen, omitting a middle is somewhat of a trend these days — just ask Kylie Jenner.
Tiegen also revealed that naming Luna was actually pretty easy since there was a blood moon in the sky at the time.
"It was a very beautiful night, really big, vivid red moon, and just gorgeous," she said. "I have this love for space and I think about space camp all the time, and my days at space camp as a youngster. And so I just thought Luna was perfect."
https://www.youtube.com/watch?v=3W8N0gMizFc?feature=oembed
Teigen says she currently only has one idea for the new baby boy…but DeGeneres (and John Legend, we hope) quickly vetoed it.
"I've been toying with Dick Legend a lot," Teigen said. "...Can we say that? Richard Legend."
LOL.
And if you're thinking that John Legend may want a baby boy named after him, you'd be mistaken. When Teigen brought up the possibility, she said her husband "and his ego" replied that he didn't want the baby to feel like he had to live up to him. Hey, we get it — can you imagine the pressure a potential John Jr. would face (especially if he wanted to be a musician)?
Luckily, Teigen still has some time to think about it…