Chrissy Teigen Wore Star-Print Under-Eye Patches, and Now We Need Them Too
Fortunately, we found a five-pack for $15 on Amazon.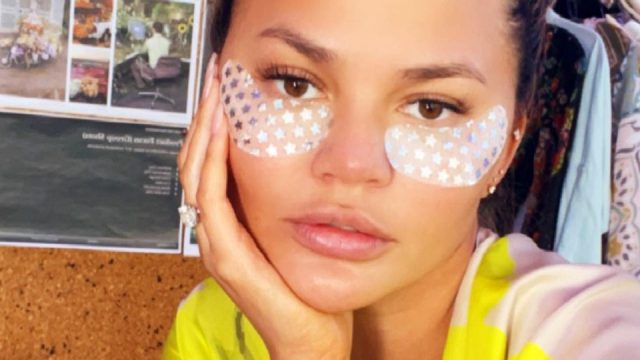 Chrissy Teigen is always influencing us. She influences us to make apple pie cinnamon rolls, to stand up to trolls on the internet, and try out genius beauty hacks, like wearing pore strips under our face masks to prevent breakouts. So, when she posted a selfie wearing star-print under-eye patches on Thursday, we were immediately eager to try some out for ourselves.
Teigen captioned the photo, "mingo!!!!! an afternoon at @flamingo_estate is a dream day," raving over her relaxing experience at the garden retreat. And while her current lifestyle may not be the most attainable (trust us, searching "garden retreat near me" only yields disappointment) her glam beauty product is actually within reach.
Of course, we weren't the only ones desperate to get our hands on the star-worthy patches. One commenter wrote, "Please tag these under eye patches!!!! Need," and the comment garnered over 200 likes and multiple replies naming the product. The product in question is the Bliss Eye Got This Holographic Foil Eye Masks and they're available to shop in a five-pack for only $15 on Amazon.
The adorable print is just a bonus to these powerful de-stressing eye masks, which work to brighten under-eye circles, de-puff under-eye bags, and lock-in moisture. We're stocking up on as many as possible before Teigen's recommendation sends these flying off the virtual shelves.
Bliss Eye Got This Holographic Foil Eye Masks, 5 Pack
$15
Shop it
Amazon
Now join us in slapping on these eye patches, putting on a silky robe, and putting garden visuals on our TV screens to pretend we're living the Chrissy Teigen high life.