Chrissy Teigen just shared the first pic of her new baby boy, and his name is SO regal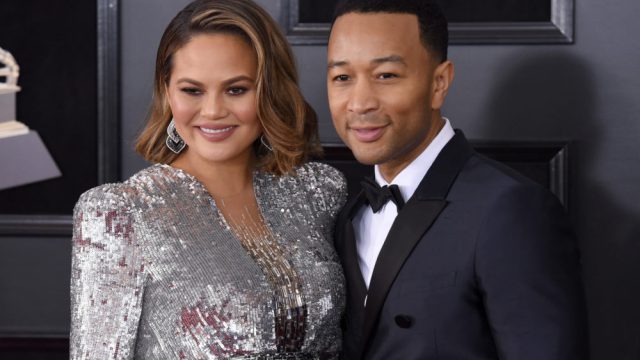 On Wednesday, May 16th, Chrissy Teigen and John Legend welcomed their new baby son into the world. The couple announced the birth on Twitter, writing, "Somebody's herrrrrrre!" with baby bottles and smiley emojis. Then, on Sunday, May 20th, Teigen shared not only her son's name, but his first photo. And he's SO. FREAKING. ADORABLE. Drumroll please…
Welcome, Miles Theodore Stephens! Obviously, WE LOVE IT.
"Hello, world! This is Miles Theodore Stephens," Teigen announced on Instagram. "We are drowning in his little peeps and nuzzles. Our household feels overwhelmed with love. Thank you for all your well wishes!"
And Miles looks so much like his dad.
Miles is the couple's second child, with the now-iconic baby Luna born in April 2016.
Teigen and Legend started dating in 2007 after she appeared in the video for his song, "Stereo," and they were married in 2013 in a ceremony in Italy. However, Teigen says marriage was never necessarily on her agenda. "Never once did I ask, 'What are we?' Marriage was never my goal, because I've never been very traditional. I was just happy to be with him," Chrissy once said in an interview with Cosmo.
However, having children was always part of her plan, and Teigen has been extremely open with fans about her difficulties conceiving, as well as her journey with IVF.
"The big question was why this wasn't working for us when I was young and he was healthy," Teigen once said in an interview with Self. "I thought, people get pregnant by accident all the time! How does this happen?"
She also opened up about the toll the hormonal treatments she underwent took on her body, "Emotionally, it could be really hard. When you have these high-highs and low-lows, and you're, like, cuckoo pants […] You don't want to get your hopes up, but of course, you do."
It's safe to say that all's well that ends well, because Teigen and Legend are now parents to two gorgeous little humans. Welcome to the world, Miles.