Chrissy Teigen just low-key confirmed the sex of her new baby — in an Instagram post, of course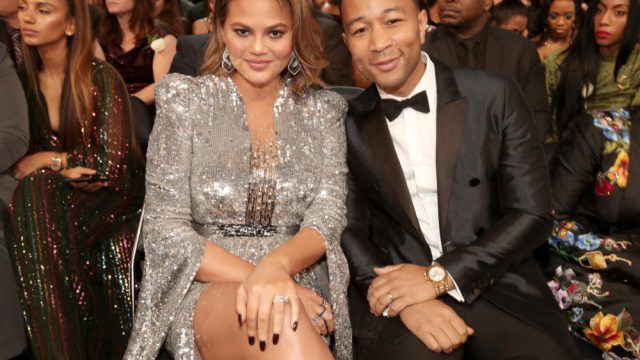 Chrissy Teigen, Queen of of all Social Media ?, knows how to get our attention — usually in 240 characters or less. Same goes for Instagram, where she was dropped all sorts of amazing information (and adorable pictures) over the years. It's the social media platform where she announced she was pregnant with Baby #2, and it's now the same spot where she confirmed, to her 15.8 million followers, the sex of her new baby.
Do you think Luna Legend is ready for…a baby brother?  Yes, Teigen — along with her husband John Legend (because Chrissy confirmed IT'S JOHN'S) —  are expecting a baby boy.
Sharing a picture from the 2018 Grammys red carpet — where Teigen completely slayed in a sparkly, silver fringe dress — she posted a picture with the caption, "mama and her baby boy."
While Teigen and Legend have been vocal about their second pregnancy, and their use of IVF, this is the first time the sex of the baby has been confirmed. Teigen has previously commented that the embryos she and Legend had left were male, and that the two were hoping for a baby boy. So you hear that? Coming soon to the Teigen-Legend house and Chrissy's snapchat, a lil baby boy Legend.
This news should really come as no surprise, since Teigen has basically already told us it was going to be a boy. BUT LISTEN, we're going to take every chance we get to celebrate this ever-expanding family, and their little ones, and their future cookbooks. If Chrissy wants to share with us she's painting the 'lil dude's room hot pink with green polka dots, we'll freak out about that for like 20 minutes, okay?
Many happy congrats to the family, and we look forward to welcoming baby boy Legend into the world very soon.