Chrissy Teigen shared a video of baby Luna waving and saying "hi" and yes, we are melting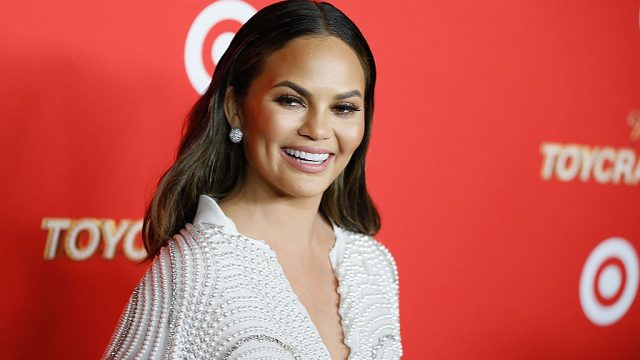 Our favorite mother-daughter duo just cannot stop crushing hearts. On Tuesday, Chrissy Teigen shared a video of baby Luna waving and saying "Hi" to her dad John Legend in one of the sweetest Instagram posts we've ever seen. Clearly, Teigen and Legend's 8-month-old daughter has an endless supply of cuteness and it doesn't hurt that she's already a natural in front of the camera. She can't really help it, though! When your mom's a model, you don't exactly choose the cute life; it chooses you.
For example, baby Luna's already starred in her dad's "Love Me Now" music video (and was said to be a perfect angel on set).
https://www.youtube.com/watch?v=NmCFY1oYDeM?feature=oembed
And then there's baby Luna's reaction being fed green beans, which promptly convinced us that we should be eating them all day, every day.
So, you're probably thinking not everything babies do is cute, and yeah, they are definitely manipulating us with their smiles. But when they do stuff like this, we turn into helpless humans and all is right with the world:
"We miss you, papa!! Can't wait for you to come home!" Teigen captioned the video, adding the disclaimer, "(Yes she has rosy eczema cheeks, yes we are taking care of it, no it's not a gluten allergy, no it's not our makeup, no it's not from our perfume, yes she's just a baby)."
It's a shame that Teigen had to explain Luna's rosy cheeks, but since trolls are gonna troll, we totally understand why she quickly addressed it. But we have one thing to say for anyone who wants to compete with little Luna (or any other baby) for attention: Don't even bother because you'll lose every single time.
Keep the adorable baby vids coming, Chrissy!