Chrissy Teigen just shared a picture of Baby Luna loving her dad, John Legend, oh so much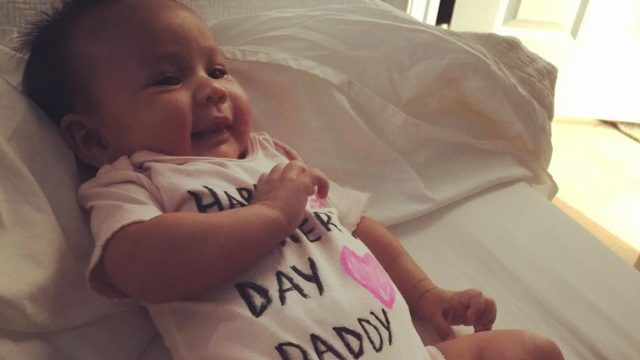 What can we say about Chrissy Teigen and John Legend's baby girl, Luna? She's adorable in every way. She rocks a pair of angel wings better than any VS model. She brunches with Kim and Kanye. And oh yeah, she LOVES HER DADDY…as evidenced by her absolutely precious Father's Day onesie:
But hey, you don't have to take the word of a onesie to know that baby Luna is completely enamored with her dad, John Legend. Chrissy Teigen just posted a new pic to her Instagram, and the truth is written all over Luna's sweet little face.
The photo shows John Legend (dressed in nothing but a towel, in case you were wondering) holding Luna, and she only has eyes for him. Seriously, her expression says it all. I mean, look at this cuteness:
We're melting over this. Positively melting.
And whoa, are we the only ones who noticed how much Luna resembles her mom in this pic? (We can't be, right?) She's the spitting image of Chrissy here. We wouldn't be surprised if she had a bottle of Lawry's seasoning tucked into her diaper.
Just saying.