Chrissy Teigen and Ayesha Curry have designed spatulas and it's for THIS really great cause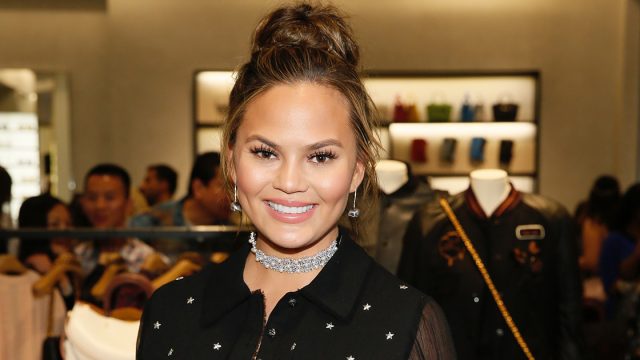 Chrissy Teigen might be the reigning queen of social media (literally, her tweets are SO funny), but that doesn't mean that she's constantly tied to twitter and snapchat all day. Chrissy is a co-host on the wildly popular Lip Sync Battle on FabTV, she has her own cookery book, she's a doting mother to baby Luna, and now she's ventured into the world of cookery ware.
Joining forces with Williams-Sonoma, Chrissy, Ayesha Curry, Jimmy Kimmel, American Girl, Ina Garten, Trisha Yearwood, Giada de Laurentiis, Danica Patrick, and Michael Voltaggio have all designed limited spatulas to raise money for the No Kid Hungry campaign.
https://www.youtube.com/watch?v=mNLcmQPZUbM?feature=oembed
The No Kid Hungry campaign aims to end hunger for over 16 million children in America. They state that 1 in 5 children will face hunger this year alone, and hope to help people by providing breakfasts and by teaching families how to shop and cook on a budget.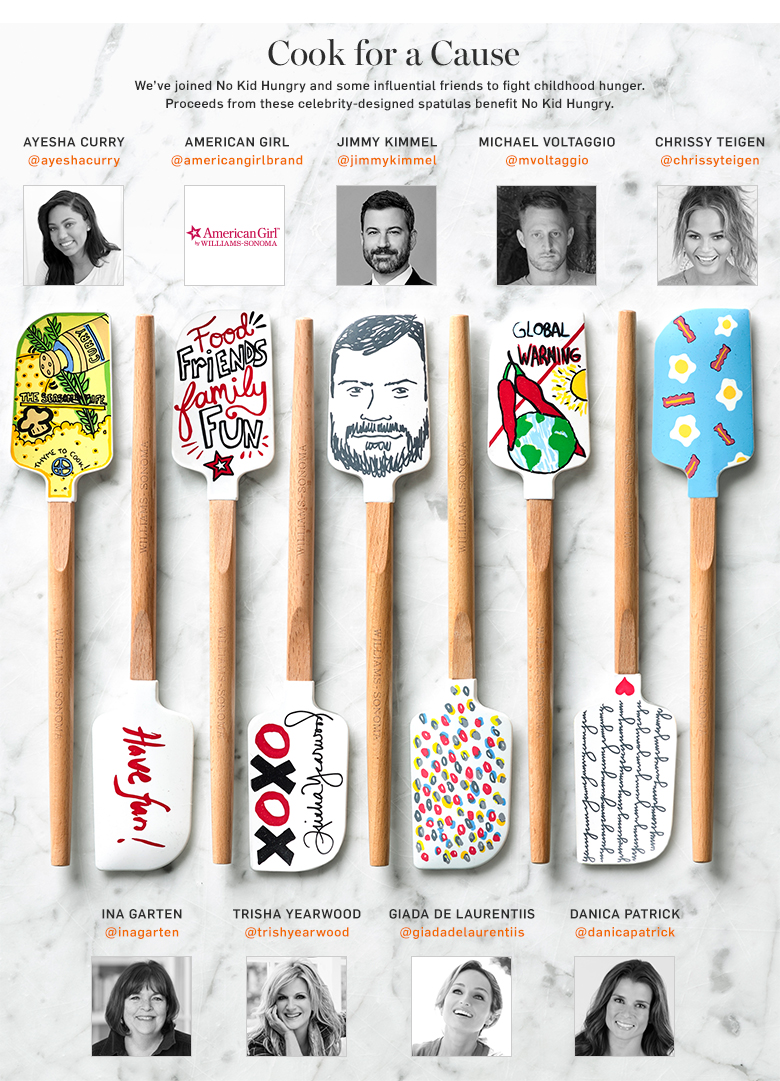 Speaking about her design, Chrissy said, "My spatula design is symbolic for the most important meal of the day: breakfast! Everybody deserves a bright start to their day so let's support No Kid Hungry and work together to end childhood hunger in America."
Adding to this, Ayesha said that her design was inspired by a pun on the word time.
"Balanced eating is so important to my family. I started working with No Kid Hungry because making sure that families and children have access to nutritious and affordable food is a cause I care deeply about," she said. "With my Williams-Sonoma spatulas, it's thyme to Cook, and it's thyme to make a change!"
According to Popsugar, 30% of profits from the spatulas, which are priced at $12.95, will go to the No Kid Hungry initiative, with the celebrity who's item sells out first donating $5000 to the charity, too.
You can find out more about the No Kid Hungry initiative here, and make sure to head to Williams-Sonoma to check out the full line of spatulas and to find out more about the project or HERE to make a donation.
We're pretty taken with Chrissy's one. What do you think?