Just like we guessed, Chrissy Teigen's Becca collab is all about getting glowing skin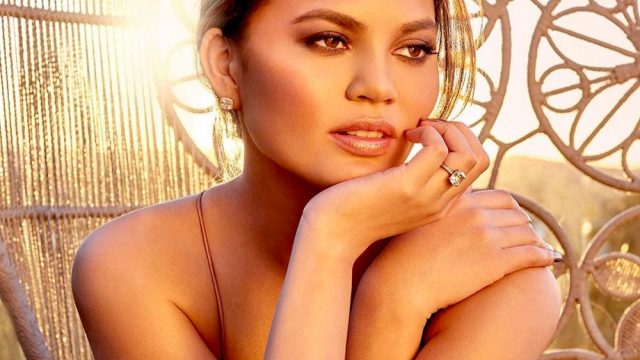 Have you come down from last night's excitement of hearing about the Chrissy Teigen and Becca Cosmetics collaboration yet? Because you're gonna need all your strength to process the fact that they've announced that they're releasing a glow kit! The Chrissy Teigen x Becca Glow Face Palette is a four-pan kit that will give you the perfect summer glow.
If there's anyone whose radiant skin is always on point it's Chrissy Teigen, so you better believe that we'll be scrambling to get our hands on this gorgeous palette for ourselves. Anything we can do to get us even remotely as gorgeous as the divine Chrissy, we'll take it!
The limited-edition Chrissy Teigen x Becca Glow Face Palette will be available in early May for $46.
https://www.instagram.com/p/BS18EAphWGI
Isn't it beautiful?
The palette features Chrissy's favorite Becca highlighter as well as glorious new shades, including: Shimmering Skin Perfector Pressed in Rose Gold, Shimmering Skin Perfector Pressed Highlighter in Beach Nectar, Sunlit Bronzer in Malibu Soleil, and Luminous Blush in Hibiscus Bloom.
How incredible is that packaging? It really is pitch-perfect for that summer glow.
This limited-edition palette is sure to sell out as soon as it hits the shelves, so make sure you head to BECCA to sign up for updates on its release so you don't miss it!
https://www.instagram.com/p/BS2SWPch8PE
The internet is rightfully delighted with this news, as are we. You can never have enough glow kits and who better to collaborate with than a woman who is known for her beauty just as much as she is for her wit and humor!
Keep your eyes peeled for more info on the Chrissy Teigen x Becca Glow Face Palette's release, it's going to be too good to miss!