Chrissy Teigen dressed up daughter Luna in a ton of adorable Halloween costumes and WE JUST CAN'T!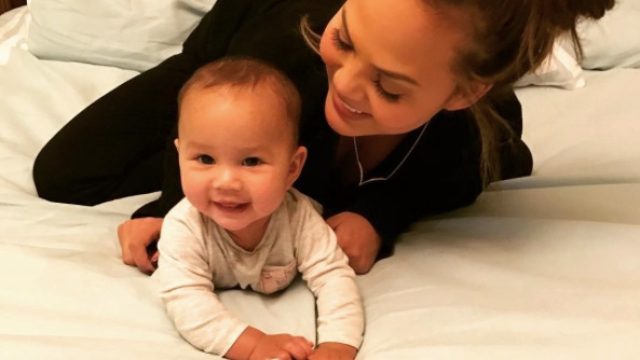 As Halloween draws near, a host of creative costumes are surfacing — and we just found out that Chrissy Teigen dressed daughter Luna up as a hotdog, among many other things this year! Teigen asked her fans for Halloween costume inspiration for Luna a few days ago, and yup, these are the results.
We're in for a treat, because Teigen and Luna have some experience in the dress-up department (remember when Luna debuted her mermaid look in July, and how freaking adorable it was?). And this occasion is extra-special, because it's Teigen's first Halloween as a mom.
Okay, here is the Luna-Hotdog!
"Have you ever seen a more "why me?" face 😭"
No we haven't, buuuuuut we might be stealing this idea for Halloween — she looks just the right amount of hilarious and comfortable!
Ready for the Luna-Banana?
What about a Luna Peacock? Oh my gosh…oh my…we can't even.
"You can't possibly think I only bought the hot dog"
Nope, we're starting to realize that you went all out, Chrissy!
How about some Luna-Minnie Mouse?
"please help I can't stop." (aka best Insta caption ever!)
Phew. Okay, Teigen did an excellent job dressing up her daughter. She definitely earns the cool mom award.
And hey, is it just us, or does it seem like Luna genuinely likes posing for the camera? So cute it's not funny.
Happy Early-Halloween everyone!
H/T Us Weekly