Chris Pratt's reaction to finding out Katherine Schwarzenegger used to have a crush on Chris EVANS is priceless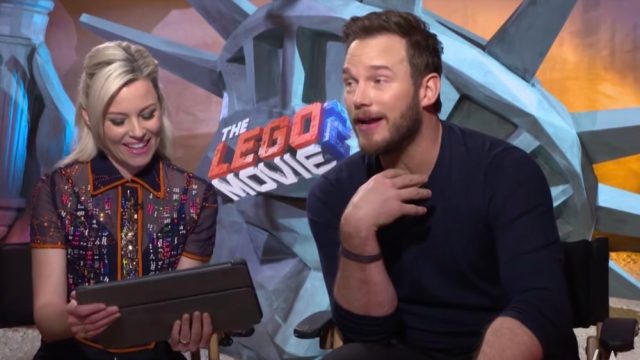 When it comes to choosing the hottest Hollywood Chris to crush on, it can be hard to pick a favorite. Chris Pratt, Chris Pine, Chris Evans, Chris Hemsworth…they're all great actors, they're all attractive AF, and they all genuinely seem like incredibly nice humans. And Chris Pratt just learned that his fiancée, Katherine Schwarzenegger, used to have a crush on one of them…and it wasn't him (well, it wasn't only him). That's right: Pratt recently discovered that Schwarzenegger was once pretty into Chris Evans. Awkward.
Pratt and his The Lego Movie 2: The Second Part co-star Elizabeth Banks recently sat down with Access Hollywood to promote the film, and the duo was shown a clip of the show from August 2017 in which Schwarzenegger was asked which famous Chris she liked the most: Pratt, Evans, or Hemsworth. First, Schwarzenegger answered Evans, before quickly changing her mind, saying,
"Actually, Chris Pratt. Chris Pratt has been looking good lately, so you never know."
Even Banks was shocked by the reveal, saying, "Wow, did you know about that?"
"When she said Chris Evans, my heart sank and then she rescued it," Pratt responded, wondering if the clip had been edited. The interviewer told Pratt that the clip was from 2017—before the couple had even met each other—adding, "Talk about foreshadowing."
Pratt also explained that his soon-to-be wife is currently on tour promoting her children's book, Maverick and Me, which promotes animal adoption. He also slyly recommended that parents pick up a copy on the way home from seeing The Lego Movie 2, which comes out on February 8th.
For the record, if Evans or Pine are single, we're available. Just sayin'.