Chris Pratt Shared the First Family Photo With His and Katherine Schwarzenegger's New Baby
Also, her name is adorable.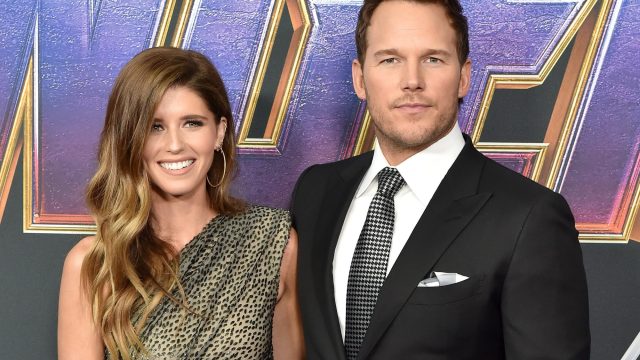 Update, August 10th, 2020, 11:56 a.m. ET: It's official! Chris Pratt has confirmed the birth of his and Katherine Schwarzenegger's first child together in an Instagram post. Not only did he give us their first photo as a family, but Pratt also revealed his new daughter's name, and it's all just the sweetest.
"We are beyond thrilled to announce the birth of our daughter, Lyla Maria Schwarzenegger Pratt," he wrote in the caption. "We couldn't be happier. Both mom and baby are doing great. We are extremely blessed. Love Katherine and Chris."
The Jurrasic World actor posted a photo of what seems to be all three of their hands: His, Lyla's, and Katherine's. He also included two references to Psalms, Psalm 126:3 and Psalm 127:3-4.
Welcome to the world baby Lyla!
Original post, August 10th, 2020, 10:13 a.m. ET: It seems congratulations are in order for Katherine Schwarzenegger and Chris Pratt because they have reportedly welcomed their first child together. People reported that the couple recently welcomed a baby girl, though they have yet to confirm the happy news themselves. The new mom's brother, Patrick Schwarzenegger, also seemingly confirmed it to Entertainment Tonight. Here's what we know so far.
Pratt and Katherine Schwarzenegger got married last June, and rumors began swirling by the end of the year that they were expecting their first child. People confirmed Schwarzenegger was, in fact, pregnant with her first baby in April, with fans eagerly awaiting more news about her little one. And now, it seems their new baby is here, with Patrick telling ET that the couple is "doing great" and giving a thumbs up after being congratulated on being a new uncle. He also showed off a gift wrapped up in a pink bow—seemingly alluding to the fact that they've welcomed a baby girl.
This will be the first child for Schwarzenegger and the second for Pratt.
Pratt is the father to son Jack, who was born in August 2012 with his ex-wife Anna Faris. Pratt and Faris got divorced in October 2018.
Of course, this news is all speculative until Pratt and Schwarzenegger tell us themselves, but we are sending all our best wishes to them for a healthy and safe first few weeks with their new baby. Congratulations to the family of four!