Chris Pratt just posted a hilarious deleted scene from "Parks and Rec"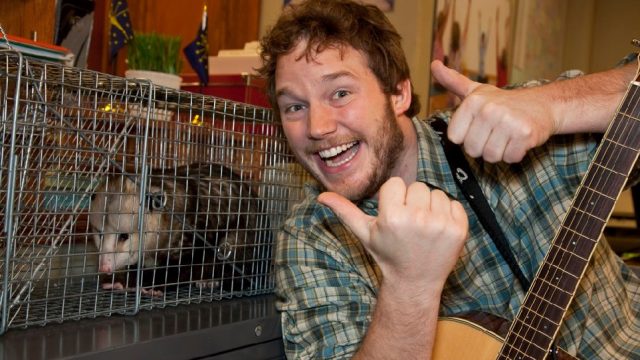 He's moved onto meatier parts since, but Chris Pratt definitely loves his Parks and Recreation family. Since his role of Andy Dwyer — the hilarious ex-boyfriend of Ann Perkins (and future husband of April) — introduced most of us to the actor, he definitely knows to give credit where credit's due. Even though he's busy promoting Guardians of the Galaxy Vol. 2, he made a point to give a small shout out to everyone on the cast and crew of his old show. Oh — and he also managed to share a pretty hilarious deleted scene.
This scene was from season six, and according to Pratt, it was only cut due to length.
So, we might have this song in our heads all day. We really hope that Jean-Claude Van Damme has seen it, since it's a pretty intense tribute. Called "The Sudden Death Song," it's all about the 1995 movie Sudden Death, which — as you probably figured out — stars Van Damme as the lead.
"It might be for some of the older kids," Pratt's character admits in the clip. "It's an awesome movie. I didn't make it up. It's loosely based on a true story but it's also based on a movie."
Ugh, we love Andy a little too much.
 This isn't the first time we've seen the clip — but it's definitely been awhile. Since we've binge-watched the series about fifteen times since it ended in 2015, footage like this seems almost new.
Fingers crossed that a Parks and Recreation reunion eventually happens.