Chris Pratt gave an emotional shoutout to his partner Anna Faris, and it's the definition of true romance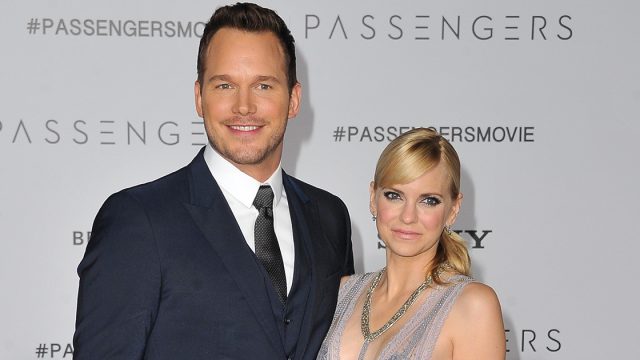 If you ever get the feeling that romance might be dead, all you have to do is check out Chris Pratt's Instagram dedication to Anna Faris to know that everything is right in the world.
We already know that Chris Pratt and Anna Faris are one supportive couple. The pair have worked alongside each other in the past, and last year Chris even teased that they might be making a movie together. What's more, we know that Chris and Anna have cute AF rituals, with Chris sharing that he often braids his wife's hair, noting that Anna's mom taught him how to do a French braid.
https://www.instagram.com/p/nDu2JLjHH0
Well, as if that wasn't enough cuteness for one day, Chris Pratt recently shared the sweetest thank you message to Anna Faris on Instagram, and we're melting at how adorable it is.
The actor is currently on the promo trail for his upcoming superhero movie Guardians of the Galaxy Vol. 2, and it seems that Anna, along with the couple's four-year-old son Jack, have joined him in Japan.
Sharing a cute picture to Instagram, the actor said that he was so thankful that his family had come out to support him.
"Thank you for the support honey! You look so beautiful. These press tours can be such a whirlwind. I'm grateful to have you and the boy with me on this one," he noted. "Although it's 3:00am right now, I was just awakened by a square kick to the back as little man climbed into bed and then must have had a karate dream or something and now I can't sleep. I'm on insta instead. All you dads and moms know what I'm talking about. 😂♥️🙏👆👍🏼🙌"
https://www.instagram.com/p/BSt11S8jitx
Awww!!!
Chris also shared a snap of himself trying on some outfits while in Tokyo, and the results are pretty surprising.
Meanwhile, Anna took to the social media platform to share the cutest picture of Jack and Chris relaxing together.
We don't know about you, but we love seeing couples supporting each other, and families just having a lovely time together. We imagine that travelling for work a lot might get a bit lonely, especially if you're away from your family, and it's so sweet to see Anna and Jack join Chris while he's away, especially after he recently shared how homesick he was.
The actor was recently in London shooting the new Jurassic World movie, where he said that he was gutted to be missing bass season. To make the actor feel better, people began to send the actor pictures of fish they'd caught.
Hopefully Chris is now feeling less homesick!
Guardians of the Galaxy Vol. 2 is expected to hit cinemas on May 5th.