Chris Pratt FINALLY gives us a pic of Jennifer Lawrence on his Instagram — but it's not what you would think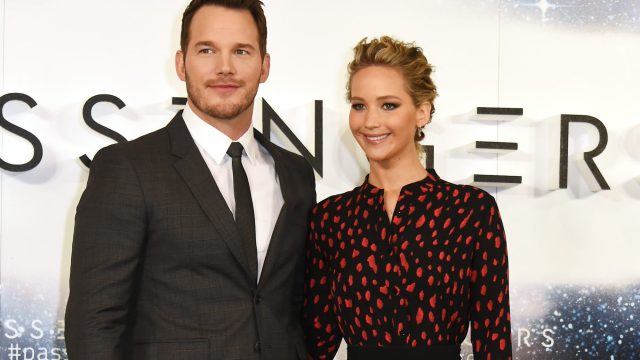 If you follow Chris Pratt on Instagram, you might have noticed the recent cameos by Jennifer Lawrence. Sort of. See, all the Chris Pratt and Jennifer Lawrence selfies tearing up his feed are missing a bit of J. Law — and it may be our fave celeb inside joke of all time. For the entire time, if you've been following them on Instagram, Pratt has been promising a selfie with him and Lawrence, but she's always just ever so slightly out of frame. On Sunday, he finally delivered. Sort of.
Most recently, Pratt posted a photo of himself with J. Law's face superimposed over his own. (If nothing else, it proves that Lawrence could rock a five o'clock shadow and still look fierce.)
This comes just days after the duo posed with celebrity chef Jamie Oliver behind the scenes at the Graham Norton Show, where Pratt dazzled Lawrence with his magic skills.
The whole thing has been going on for a while now and we're a little obsessed. It's partly because the cut-off photos of J. Law are so bad, they're good. But it's also because Pratt and Lawrence rank so high on our list of imaginary celeb BFFs.
Pratt and Lawrence star in the upcoming sci-fi thriller Passengers, where — spoiler alert — things get a little hot and heavy between them. They're now in press tour mode, which apparently means Chris Pratt and Jennifer Lawrence joke selfies galore. We're only a little jealous of their hilarious friendship, honest…
You have to wonder how Lawrence would retaliate if she had her own social media accounts. (Although, we kind of love that she doesn't.)
Passengers hits theaters on December 20th, and we're keeping our fingers crossed that Chris Pratt and Jennifer Lawrence keep up the bad selfies until then. If you haven't seen it yet, check out the trailer for Passengers —complete with a steamy Pratt and Lawrence makeout scene — here.
(Oh, and in case you just can't get enough of Chris Pratt in space, a new Guardians of the Galaxy trailer just dropped. You're welcome.)