Chris Pratt shared an adorable and important video of his son and it's got us feeling things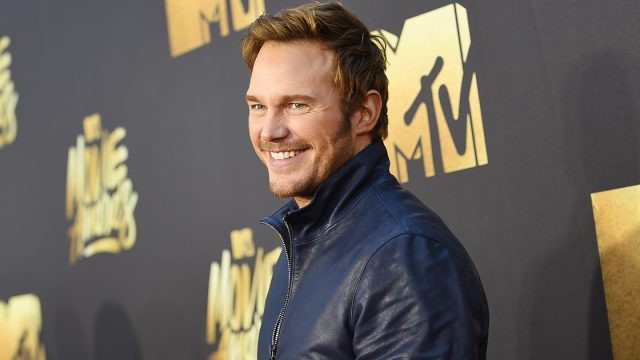 In a bid to hit us in the feels and to raise awareness for World Premature Day on Thursday (November 17th), Chris Pratt has shared a video of his son, Jack, and it's too adorable and really, really important.
It's safe to say that we absolutely love Chris Pratt. Not only is he totally hilarious, he's also a great actor, and a wonderful dad to 4-year-old Jack. We love seeing what the two of them get up to when Chris shares pictures and videos on social media, and they're usually so cute and funny.
Well, now Chris has taken some time out from being the funny man to raise awareness for an important cause and it's all to do with his son Jack.
Sharing a video on Instagram, the actor explained how he and his wife, Anna Faris, welcomed their son into the world a bit early due to the fact that he was premature.
"As many of you may know, our son Jack was just over 3 pounds when he was born," Chris wrote on Instagram. "Thanks to scientific advances made possible by #marchofdimes funding, today he's a perfectly healthy, curious 4 year old."
The video that Chris shared shows Jack being SO adorable and playing with what looks like a praying mantis.
https://www.instagram.com/p/BM7qiNkhhKH
"5 million babies are born #prematurely each year around the world. And 1 million of them won't live to celebrate their 1st #birthday," he wrote. "The @marchofdimes strives for a world where every #baby has a fair chance, yet this is not the reality for many mothers and babies. Join me in supporting their efforts to give every baby a fighting chance...Thank you! God Bless!!!"
https://www.instagram.com/p/BEdiMXXDHM-
Chris has been a big supporter of March of Dimes, a charity dedicated to helping improve the lives of babies by preventing birth defects, premature birth, and infant mortality, and their Prematurity Campaign since the birth of his son.
According to the charity, cases of premature birth have been on the decline in the U.S. to only 9.6 % of births. However, there is still a lot of research that needs to be done, and in 2008 the charity expanded its campaign to make it a global affair.
As E! News reports, in 2014 Chris gave an impassioned speech at a March of Dimes luncheon, where he spoke of his support for the orgainization.
"I've done all kinds of cool things as an actor: I've jumped out of helicopters and done some daring stunts and played baseball in a professional stadium, but none of it means anything compared to being somebody's daddy," he said at the event in 2014. "Our Jack went from a small, helpless little squirt to a strong, smart, happy, funny, beautiful boy who loves monster trucks and Daniel Tiger, and, believe it or not, loves vegetables."
Chris went on to credit March of Dimes and their work and research towards "cutting-edge medicines" for helping tip the balance of life and death for preemie babies towards life.
https://www.instagram.com/p/BFKzVCvjHH-
Not only has Chris raised awareness for such an important and essential cause, but he the video of Jack is just so darn adorable that you can actually see how an organization like March of Dimes actually impacts people's lives.