Chris Pine just said some super relatable things about anxiety
Chris Pine — our currently champion for Princess Diaries 3, cross your fingers — just shared some amazing, and completely honest, feelings about anxiety. We didn't think it was possible for us love this leading man anymore, but look where we are now.
In a Facebook Q&A for his new upcoming movie, The Finest Hours, Pine was asked for acting advice. But this specific question asked about how someone with anxiety could ever break into acting, especially underneath the weight of Hollywood expectations.
Instead of giving a typical stock answer like "try your best!" Pine elaborated from the heart. He explained that he struggles with anxiety himself, and that the best way to deal with it is to, "get talking."
"Know that you are not alone, and that anxiety effects many, many, many people," he writes. "Stay strong."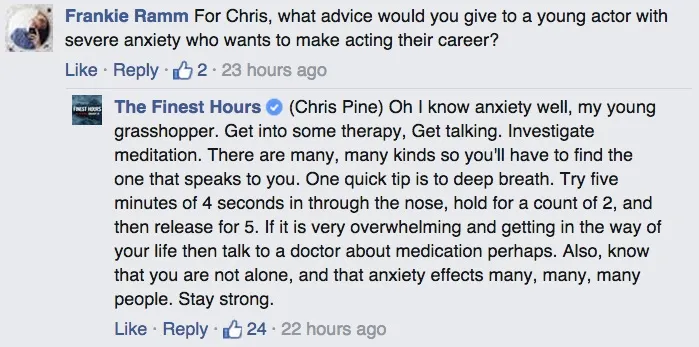 It is absolutely amazing to hear someone like Pine, whose face is plastered all across billboards right now for his new movie, talk so honestly and freely about anxiety. Instead of shying away from this often-ignored issue, he's talking about it head on. And on Facebook!
While his approach is meditation and deep breaths, he acknowledges that this isn't for everyone. Truly, the best thing you can do is talk about it with others, and even a doctor.
Above all, remember you're never alone when dealing with this mental health issue. Pine is right there with you (but sadly, not physically right there with you, but we can dream).
(Image via Shutterstock.)