Chris Mazdzer just made U.S. Olympic history with a singles luge medal, and silver looks good on him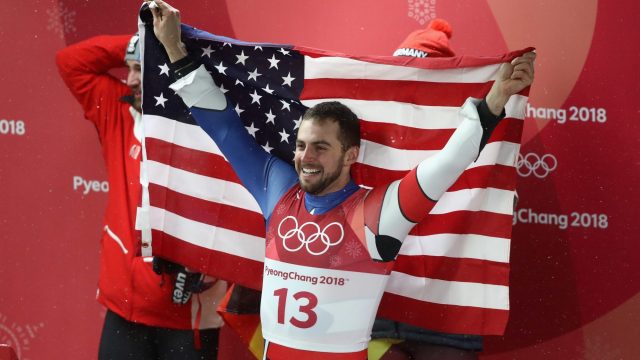 Chris Mazdzer, our latest Olympic man crush, has a pretty big reason to celebrate right now. The member of Team USA just made history as the first American man to medal in singles luge, and we couldn't be more proud!
The win was a well-deserved upgrade for Chris. The athlete had finished in 13th place in his previous two appearances at the Winter Olympics. 2018 proved to be his year, though, as he brought home the silver medal for Team USA. Austria's David Gleirscher took the gold, with Germany's Johannes Ludwig earning the bronze.
Heading into the final heats, Chris was in fourth place overall. What put him over the top was his record-breaking third run, which vaulted him into second place. He maintained that position with a stellar performance in his fourth run, therefore guaranteeing the silver and his spot in the history books.
The U.S. luge star is a natural-born athlete, having competed in both soccer and lacrosse before settling on luge as his sport of choice. Luge, which is sometimes called the "fastest sport on ice," is kinda like sledding down an icy track — only you're flat on your back as you move at speeds up to 90 mph.
Watch Chris Mazdzer's final thrilling run below:
Chris's victory is made that much sweeter because of the recent difficulties he faced in international competition.
He finished no better than sixth place in this past World Cup season, after being ranked No. 3 in the world in the 2015-2016 season.
"It wasn't my year, but that's the best thing about the Olympics, Chris said after his impressive heats. "You really put all your focus and everything into right now. I'm an outsider. I like being the underdog.
This is only the sixth medal to be earned by Team USA for the luge, a sport first introduced to the Olympic Games in 1964. Olympian Erin Hamlin — who carried the American flag during Friday's opening ceremony — won the U.S. team's first medal for women's singles luge four years ago in Sochi. The other four medals were won in men's doubles luge in 1998 and 2002.
Congrats to Chris on his phenomenal and history-making performance! This is the second medal for Team USA so far, but we have no doubt there are more to come.