Captain America just wished Chris Hemsworth happy birthday with this hysterical blooper
It's probably hard not to become BFFs after spending so long making movies together, and the cast of the Avengers films is no exception.Take, for example, Chris Evans and Chris Hemsworth, AKA two of the three Marvel "Chrises" alongside Guardians of the Galaxy star Chris Pratt.
Hemsworth celebrated his 33rd birthday on Thursday, and instead of posting a sweet photo of a dog next to a cake or something equally adorable yet generic, Evans tapped into some blooper reels to show how much he REALLY loved the Thor actor.
"Happy birthday to my buddy @chrishemsworth my favorite person to mess up an otherwise flawless take," the IRL Captain America wrote next to a GIF of his friend having a liiiittle bit of trouble wielding Mjolnir, AKA Thor's hammer.
You know, the weapon only he can wield (well, ideally).
We have to admit he even messed up impressively, though. Like if there was a spin-off Thor movie where he takes up juggling and joins, like, a traveling Norse-god circus, we'd pay to see it.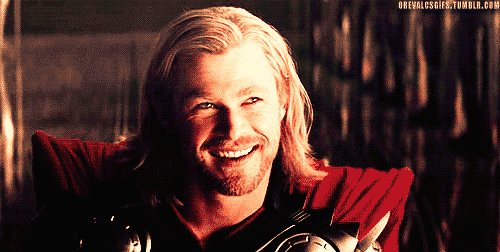 Another of Hemsworth's Marvel-movie pals couldn't resist getting in on the birthday-wish fun too. In an adorable #TBT tweet, Mark Ruffalo showed off one of his Hulk-ier non-movie moments in a GIF depicting him literally lifting Hemsworth off the red carpet.
It's hard to imagine, we know, but even Norse gods have their off days, y'all. Nevertheless, 33rd happy birthday to our fave flaxen-haired Avenger / Ghostbusters receptionist.