Chris Hemsworth dancing to Miley Cyrus's "Wrecking Ball" (which may or may not be about his brother) is a gift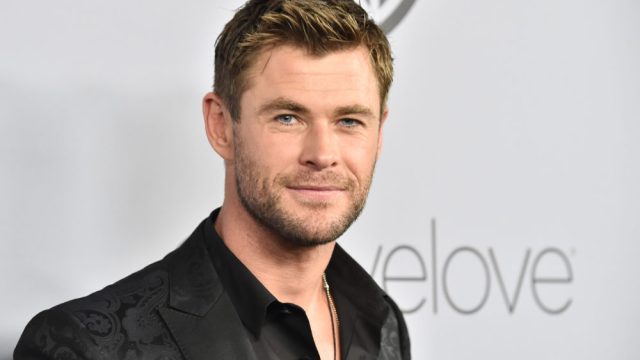 Hi, hello there. Having a particularly long week? Stressed that it's somehow only Thursday? We here at HelloGiggles feel you. That's why, on this blessed day, we're gifting you video footage of Chris Hemsworth dancing to his future sister-in-law Miley Cyrus's breakup anthem "Wrecking Ball" with his three children in their living room. Because we all deserve to see the Hemsworth family dog bewildered by insane dancing.
Sure, Chris is known for his tough-guy Thor muscles and for wielding superhero powers, but the man has some seriously sweet dance moves, and this is everything we never knew we needed in life. He shared the  hilarious video to his Twitter account, and we're thanking Odin he did. (Again, the best part? Probably the dog. But also maybe the kids. Actually no — we love EVERYTHING about this equally.)
While it's never been officially confirmed, it's widely speculated that Miley wrote "Wrecking Ball" after her temporary breakup with Chris's younger brother, Liam. But it seems there's no awkwardness here, because Chris tagged his baby bro and future sister-in-law in the video.
And how did Miley feel about older bro Chris hitting peak dad status by breaking it down to one of her most iconic songs? She loved it, of course, sharing the clip to her Twitter page, red heart emojis all around.
And because it is Thursday, we'll bless you again, this time with a throwback clip of Chris showing off his moves on Season 5 of Australia's Dancing with the Stars, which, coincidentally, aired just as "Wrecking Ball" hit number one on the charts.
https://www.youtube.com/watch?v=JtobSoEb2V4?feature=oembed
And in case you're still in need of a throwback moment today, here's the "Wrecking Ball" video, which still hits us right in the feels.
https://www.youtube.com/watch?v=My2FRPA3Gf8?feature=oembed
If his career as an Avenger ever fizzles, at least we know Chris has some impressive dance skills to fall back on…and Miley's got no shortage of hits for him to break it down to.