Chris Evans and Jenny Slate have broken up AGAIN, and Twitter can't handle this roller coaster of emotions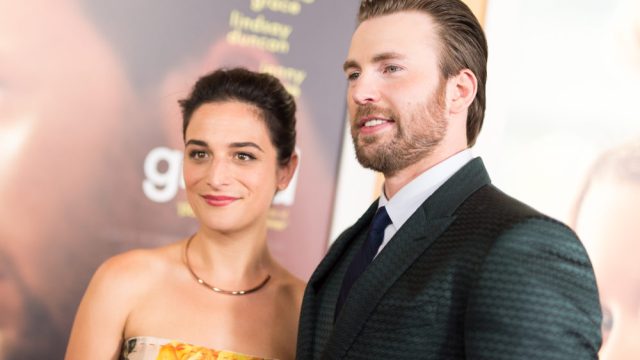 Sometimes we live in the cruelest of worlds. And in this case, it seems that Jenny Slate and Chris Evans have broken up — again. Are you emotional? Because WE'RE EMOTIONAL.
The Chris Evans-Jenny Slate split was confirmed in a New York Times profile ahead of Evans' Broadway debut in Lobby Hero. And the news arrived in the form of a parenthetical accompanying Evans detailing what he learned while reading Rebecca Solnit's The Mother of All Questions at Slate's suggestion.
It read, "their on-again, off-again relationship, beloved by the internet, recently ended."
Umm, what? How dare the NYT drop two major bombs on us like that! Not only are Slate and Evans over but she had him reading feminist literature?
As a refresher, Evans and Slate first dated for about a year back in 2016 after meeting in 2015 on the set of Gifted.
And they quickly became one of the internet's favorite couples before ending things in February 2017. Despite their breakup, the two continued to give devastatingly beautiful compliments about the other in interviews before reuniting for the Gifted press tour.
As the internet cheered on, the pair were spotted having lunch together and exchanging flirtatious tweets — not to mention those adorable Dodger videos — before it was confirmed they'd gotten back together in November.
Following their split last year, Slate told Vulture that she hoped to one day be friends with the Captain America actor. She said, "We're not on bad terms, but we haven't really seen each other, spoken a lot. I think it's probably best. I'd love to be his friend one day, but we threw down pretty hard. No regrets, though. Ever."
In turn, Evans called Slate his "favorite human" in an interview with People, where he gushed about the Landline actress. He added,"It's like an art form talking with her, because the visuals associated with her expression are just so colorful. She's so vulnerable, so honest, so interested in other people more than herself, she's incredibly compassionate, there's just nothing to not love about her."
Hey, at least we'll always have those kind words as we, and Twitter, sort through all of our many, many F-E-E-L-S about the breakup…
https://twitter.com/udfredirect/status/976847517227929601
false
While they may no longer be together, everything the two have said about the other indicates there's a lot of love and respect between them. Here's hoping they'll still be friends — or at least book club buddies.