This video of Chris Evans' dog singing will be the best 90 seconds of your day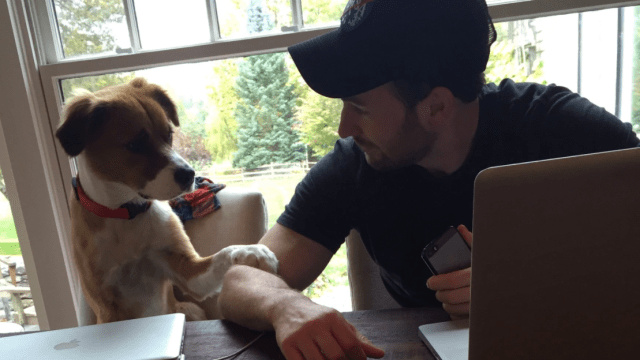 Step aside Captain America, because it seems there's an even more talented member of Chris Evans' family in our midst: adorable pup Dodger.
But it turns out, until now, Dodger had been keeping his true talents as a singer under wraps.
Like any proud dad, Mr. Evans himself hilariously tweeted his discovery of Dodger singing along with his favorite stuffed animal — which happens to play "The Lion Sleeps Tonight." Alongside the video, Evans added,  "This is Dodger's stuffed lion. He loves it. He brings it everywhere. If you press it's paw, it sings. Today, Dodger decided to join in."
Chris Evans — and what appears to be the voice of Jenny Slate, and we promise we won't say anything other than we ship it!!! — seem totally in awe of Dodger's newfound vocal range, even giggling as the pup pauses between between "wimowehs" to aimlessly chew at the stuffed animal before finding his groove again.
Seriously though, try not to fall in love with Dodger during the most adorable 90 second video on the planet
I think we can all aspire to possess the self-confidence of Dodger Evans.
It's no secret that Evans is obsessed with his adorable dog (as we all should be). The Captain America star recently spent ten weeks away from Dodger and often took to Twitter to profess his love for his dog. In fact, during their separation, Evans' frequent tweets of affection towards his dog even sparked rumors that Dodger had passed away, before Evans revealed that he just missed his pup back in Los Angeles.
Since their reunion, which also melted our hearts, Evans has been showering Dodger with love and providing followers with the video to prove it. We hope Dodger keeps perfecting his vocals because he could just be working towards a National Anthem job for some other L.A.-based Dodgers next year.