Chocolate-covered Twinkies have arrived, and they're new and improved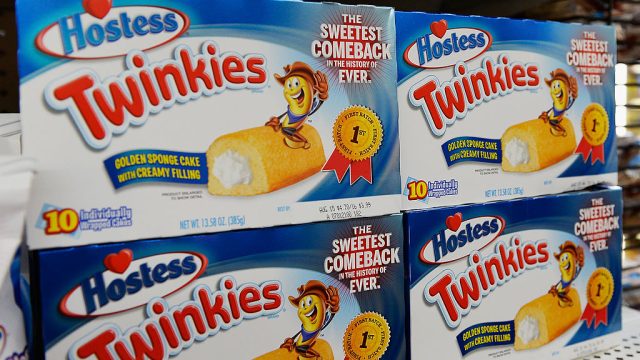 Somebody grab us a bib because Hostess cupcake cookies and chocolate-covered Twinkies have arrived to reassure us that good still exists in the world — even if it is sort of evil. Thanks, junk food, for leaving us conflicted AF. But hey, beggars certainly can't afford to be choosy, so unleash ALL OF THE TWINKIE GOODNESS UPON US, HOSTESS. If we can handle the coming of Twinkie-flavored cappuccinos, we can effectively deal with (and devour) any snack you toss our way.
If you'll recall, chocolate-covered twinkies made a comeback in 2014, but these similar drool-worthy snacks we spotted at Delish are basically a new improved version. According to The Junk Food Aisle, the Hostess Bake Shop Twinkies are covered in white chocolate drizzles and rainbow sprinkles, which is basically happiness in food form.
#YUM. We'll take an endless supply of these heavenly Twinkies, please and thanks. The alluring snack is a hybrid between two tasty classics, complete with the signature frosted curly swirls and — believe it or not — even more flavor.
"The Hostess Bake Shop is literally just starting," William D. Toler, President and CEO of Hostess Brands, Inc. told Food Business News. "I think our first shipments on the cupcake cookie were in late February, early March."
In addition to the cookie cupcakes, Toler confirmed that The Hostess Bake Shop will bless junk food fanatics with triple-dunked Ding Dongs, which you should sit back and behold in complete silence:
Whew! So, we know that was a lot to process, so we invite everyone to sit back and take in a few spoonfuls of Twinkies ice cream to fully absorb all of the extra snacks you'll have to add to your shopping lists when the new Hostess Bake Shop treats hit the shelves of your local Costco, Alberston's, Vons and other stores, in the near future.