All our favorite Chloe x Halle videos in honor of Halle Bailey joining The Little Mermaid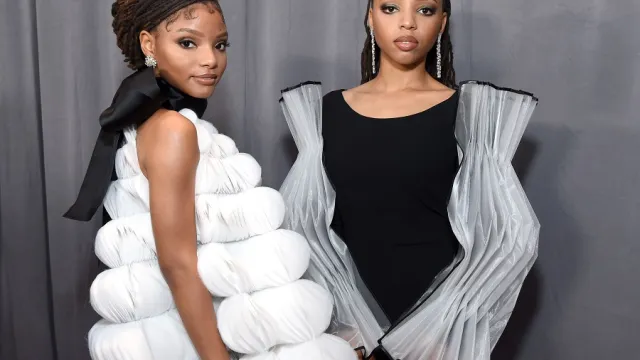 Yesterday, Disney announced that Halle Bailey of Grown-ish and Chloe x Halle fame is set to star as Ariel in the forthcoming live-action The Little Mermaid. Halle is incredibly talented, and if you're only peripherally aware of her career ("She's in that band with her sister, and Beyoncé likes them? Or something?"), get all the way on board because Halle is a superstar. Here, in no particular order, are our favorite Chloe x Halle videos in honor of Halle's triumphant casting news.
"Pretty Hurts"
Sisters Halle and Chloe started their YouTube channel in 2008, but things really took off in 2013 when they covered Beyoncé's "Pretty Hurts." After hearing the cover, Beyoncé signed the sisters to her Parkwood Entertainment record label. "Beyoncé calls us her 'angelic aliens,'" sister Chloe told Elle in 2016.
"Drop"
"Drop" is off the sisters' 2016 debut EP Sugar Symphony, which served as an introduction to the girls' musical voice and their moody, ethereal take on R&B.
Grown-ish theme song
Both sisters are series regulars on Grown-ish, but they also wrote and recorded the show's memorable theme song.
"Fake"
After mixtapes and EPs, the sisters finally released their first studio album, The Kids Are Alright, in 2018. We love "Fake"—and this live version of it—and you can clearly hear the Beyoncé influence on this track.
"America the Beautiful"
You're not really a superstar until you've sung "America the Beautiful" at a football game. Chloe x Halle's rendition at the 2019 Super Bowl is hands down in the top 10 best performances of the patriotic song.
"Warrior"
The "Pretty Hurts" cover is their most popular YouTube video, but their song "Warrior" from A Wrinkle In Time is their second-most streamed video at 7.3 million views. We love their live performance of the song at the 2018 MTV Movie and TV Awards. In our humble opinion, this performance should have gone viral—but that's a conversation for another time.
"Bodak Yellow"
Their quickie cover of Cardi B's "Bodak Yellow" is also just really cute and enjoyable.
These girls kill anytime they take the stage, take a mic, or set up in front of their laptop camera. Honestly, every performance is a "best" performance. We can't wait to hear Halle's take on the iconic Little Mermaid soundtrack.