A radio host has rightfully been fired for calling Chloe Kim a "hot piece"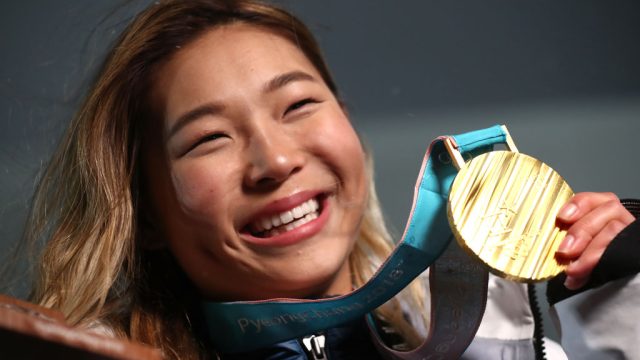 Chloe Kim is our undisputed hero of the 2018 Olympics. During the Winter Games in PeyongChang, the 17-year-old became the youngest woman to win Olympic snowboarding gold. The only thing more fun than watching Chloe Kim compete is watching her dad cheer her on with his handmade sign. Kim is one of the Olympic athletes everyone can't stop talking about. But unfortunately, some took their commentary too far.
On Tuesday, February 13th, radio host Patrick Connor called Chloe Kim a "little hot piece of ass" on his morning show The Shower Hour with Patrick Connor. The next day, he lost the show. "Yesterday in a weird attempt to make people laugh I failed," Connor tweeted. "My comments about @chloekimsnow were more than inappropriate they were lame & gross. Im truly sorry Chloe. You've repped our country so brilliantly. I apologize to my colleagues & the listeners for being a total idiot."
The Shower Hour with Patrick Connor was a Barstool Sports show on SiriusXM. Though Connor lost the hosting job, he still remains an employee of Barstool.
https://twitter.com/udfredirect/status/963649580939272193
Patrick Connor apologized for his insensitive remarks about Chloe Kim.
He also said that he feels "really stupid" about it.
And that his attempt to be funny was a "big time failure."
"Just quickly I want to apologize to Chloe Kim and her dad," Connor added in a recorded statement on Barstool. "They didn't deserve my stupid, foolish and immature comments."
Connor's apologies are a good start, but he should never have made the gross comments about the 17-year-old snowboarder in the first place. There's really no defending making unnecessary sexual comments about women on the air — let alone a minor. Connor crossed a line, and we're glad he faced swift repercussions for it.