Chloë Grace Moretz gave this important message to young voters at the DNC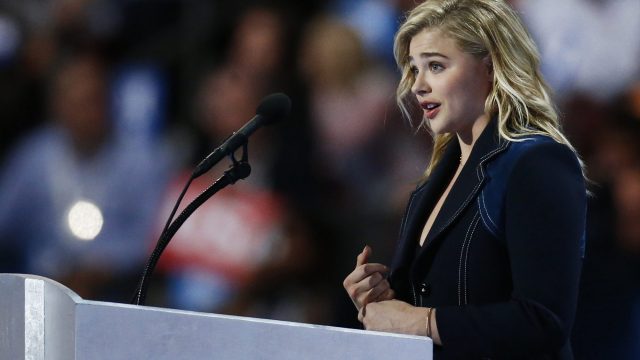 It's hard to believe Chloë Grace Moretz is just 19, because she's been a Hollywood darling for almost as long as we can remember. But it's true: at 19 years old, Chloë  is already a formidable political voice and passionate campaigner for Hillary Clinton, even though this November will be the first general election she can actually vote in.
And she's really, really stoked about it.
Chloë got to live the dream last night when she gave a speech at the Democratic National Convention, focusing on the power of the millennial vote. She urged young people to register to vote and make their voices heard, because "if you show up, if we all show up this November 8th, we can put someone who will fight for us in the Oval Office." https://www.youtube.com/watch?v=27-YW05HSfE
Chloë wanted to remind young people that their votes count in a BIG way:
"I'm a millennial – a member of the largest generation of Americans since the Baby Boom. But nearly four out of five young people stayed home in the 2014 Congressional election. Imagine what can happen if we all make our voices heard at the ballot box this November."
Such inspiring words. Speaking of which, have you registered to vote yet?
If not, check out the site Chloë mentioned last night, iwillvote.com, and make sure you're all set to cast your ballot in this incredibly important election.