China Glaze and My Little Pony are collaborating an a magical nail polish collection
China Glaze and My Little Pony are joining horses—er, forces—for a collaboration that celebrates the magic of color.
The friendship between the nail polish brand and beloved animated ponies began backstage at New York Fashion Week. In anticipation of My Little Pony: The Movie (dropping October 6th), China Glaze and My Little Pony have partnered on a collection of 14 magical shades and three gift sets.
China Glaze covers all the bases from sexy summer luxury to cute and fun pop culture. The latter applies to the My Little Pony x China Glaze collab. The polishes inspired by the four-legged beasts includes brights, glitters, and shimmers that are truly magical.
Paint the rainbow.

Naturally, each shade has a ponyriffic punny name. From left to right in the above photo: I Sea Ponies (silver holographic chrome), Hay Girl Hay! (holographic glitter), Kill 'Em with Kindness (soft yellow crème), Cutie Mark the Spot (pistachio mint crème), One Polished Pony (turquoise frost), Too Busy Being Awesome (cerulean blue crème), Let Your Twilight Sparkle (purple holo glitter), I Just Canterlot (violet glitter), Where's the Party Cannon At? (fuchsia glitter), Applejack of My Eye (red-orange crème),  She's a Mane-iac (hot pink satin), Sweet as Pinkie Pie (pastel pink crème.) Whew! Got all that?
The Mane 6 set features the stars of the pony show.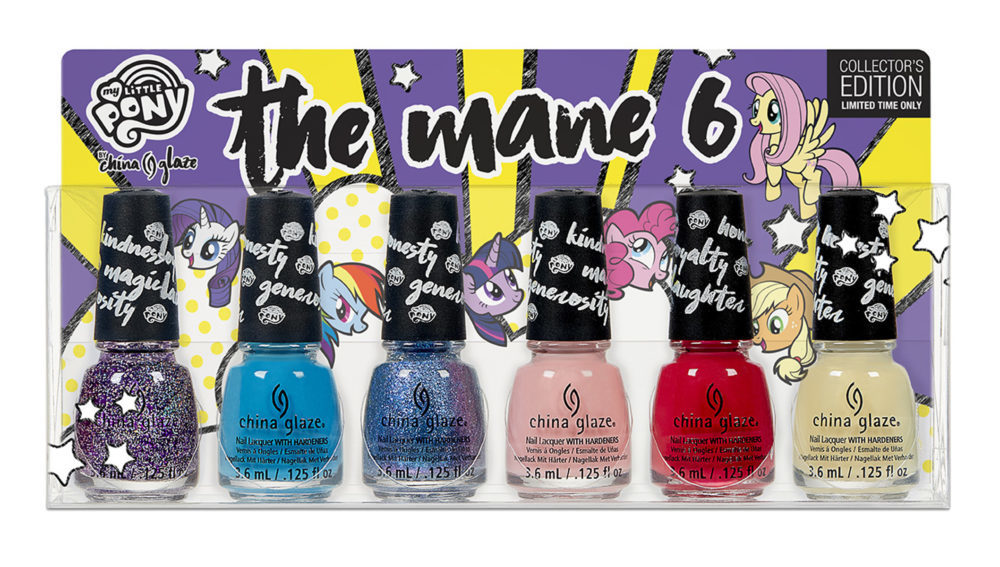 The kit includes mini bottles of six of the hottest shades from the collection.
The limited-edition Songbird Serenade kit was inspired by the pony voiced by Sia!
The kit includes two bonus BFF rings, and the shades Songbird Serenade (black shimmer) and Best Ponies Forever (gold chrome).
One Polished Pony is no one-trick pony!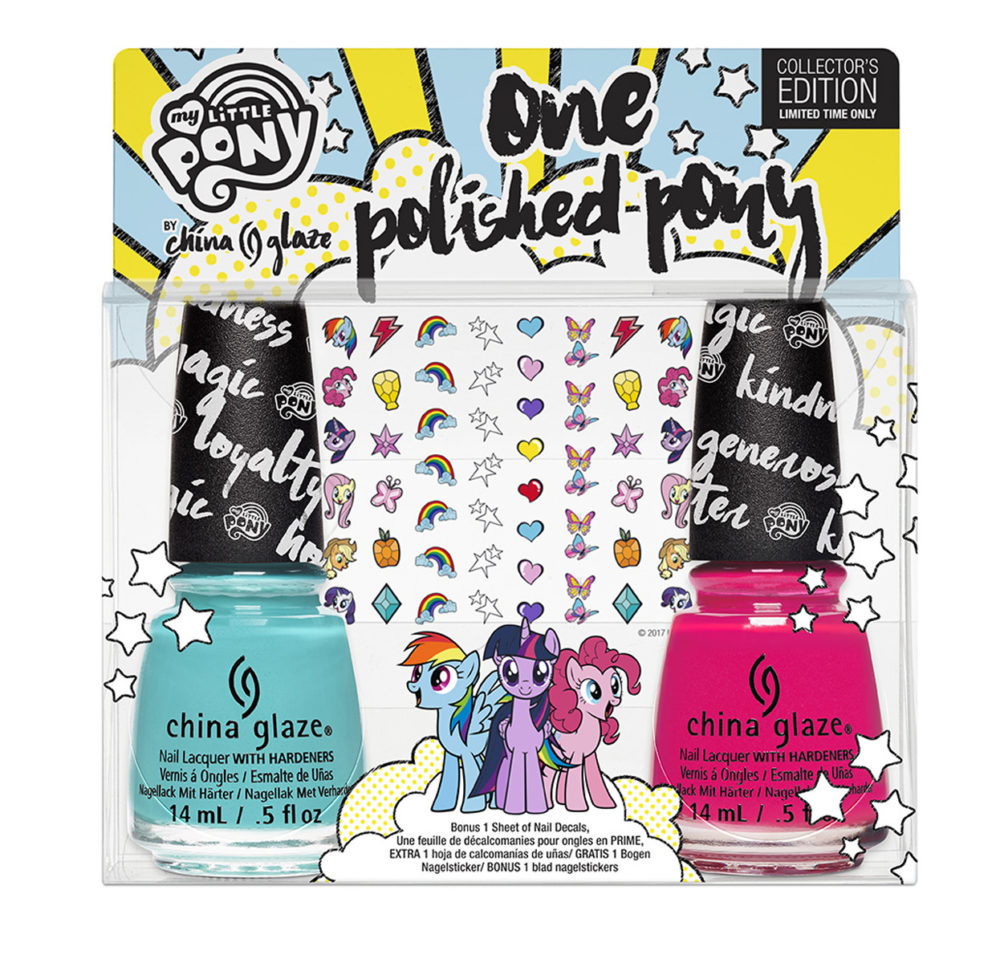 A sheet of supercute nail art decals accompanies this set of two polishes (One Polished Pony and She's a Mane-iac).
This string of ponies is truly going to make our hooves happy!
Buy the My Little Pony x China Glaze collection ($7.50 a bottle) when it gallops into town in July 2017 at Ulta, Sally Beauty, and online.