The first full-length trailer for Netflix's Sabrina is here, and it's absolutely insane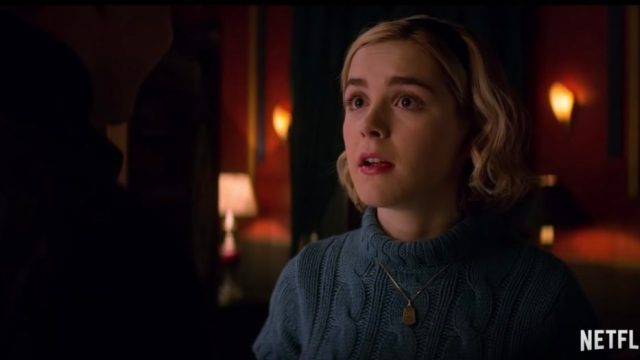 It's finally October, meaning Halloween—and, more importantly, Sabrina Spellman's sixteenth birthday—are officially right around the corner. Netflix just released the first full-length trailer for The Chilling Adventures of Sabrina, and it looks like the retro creepy series of our dreams.
The series has been teasing The Exorcist and Rosemary's Baby vibes since it was officially announced in 2017, and just like her '90s sitcom counterpart, the new Sabrina (Kiernan Shipka) is caught between her double life as a half-mortal, half-witch…but that's just about where the similarities end.
The trailer finds the supernatural teen on the cusp of her sixteenth birthday as she's forced to choose between those two worlds. After celebrating her birthday with her mortal friends and boyfriend Harvey Kinkle (Ross Lynch), Sabrina's beautiful white dress fades to black as she heads to her dark baptism into the Church of Night—only Sabrina's not so sure she's ready to embrace her witchy destiny.
Taking cues from the best of the horror genre, the trailer features Sabrina's dark baptism, a murderous scarecrow, a coven of witches, and a lot of eerie rituals, including a human sacrifice (or two).
The evil forces descending upon Greendale are definitely enough to make the madness in Riverdale seem quaint.
https://www.youtube.com/watch?v=ybKUX6thF8Q?feature=oembed
"I'm not an evil person, but these are desperate times," Sabrina says in the trailer.
The upcoming show also stars Lucy Davis and Miranda Otto as Aunt Hilda and Aunt Zelda, Chance Perdomo as Sabrina's cousin Ambrose Spellman, Jaz Sinclair as Sabrina's BFF Rosalind Walker, Richard Coyle as Father Blackwood, Tati Gabrielle as Prudence (leader of the Weird Sisters), and Michelle Gomez as Mary Wardell, Sabrina's favorite teacher. But don't worry, Salem also makes an appearance.
The Chilling Adventures of Sabrina makes its spooktacular debut on Netflix on October 26th—just in time for Halloween.