Mad Men inspired Kiernan Shipka's Chilling Adventures of Sabrina performance in the witchiest way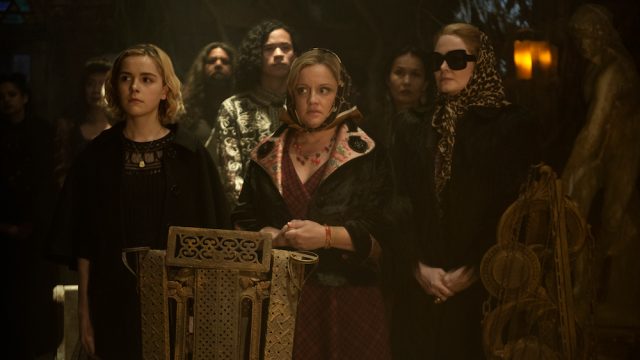 When we first meet Sabrina Spellman in Chilling Adventures of Sabrina, she's preparing to celebrate her 16th birthday. She's facing a difficult decision: Should she embrace the life of a witch with her family or remain a normal high schooler with her friends? Ultimately, she finds a way to have both, and begins living life as a teenager who is half-witch, half-mortal.
This new version of Sabrina is much different from the character we knew and loved in the '90s. She's strong, self-aware, and constantly questioning the status quo. Chilling Adventures of Sabrina is the feminist show we need right now. And Kiernan Shipka is just the actress to bring her to life.
Shipka told HelloGiggles that she got into character as any actress would. She bought some crystals, saw a medium, and did some (light) research on witches. But a lot of her inspiration came from the witchy women in her own life. We asked her who or what in particular she channeled for the role.
"Women inspire me left and right, all over the board. I feel like I'm definitely the witchiest of my family, as far as being more holistic in nature and my approach to life and healing," Shipka told HelloGiggles. "Connecting with that spiritual side of things is something that I find really wonderful and beautiful."
Shipka has a long history of working with inspiring women.
She credits the actresses of Mad Men for setting fierce feminist examples for her when she was a young girl.
"I definitely have a lot of women in my life that have supported me and helped me come into my own. Even just growing up on a show like 'Mad Men,' watching women at work, playing characters that were multi-dimensional—I grew up in a feminist environment. It's made me who I am.
https://www.instagram.com/p/0ye2iElLTm
Another witchy woman on the set of Chilling Adventures of Sabrina? Lucy Davis, who plays Sabrina's Aunt Hilda.
"Lucy is actually a wonderful healer. She's amazing.
Chilling Adventures of Sabrina premieres on Netflix on October 26th.