Chilling Adventures of Sabrina is the feminist show we need right now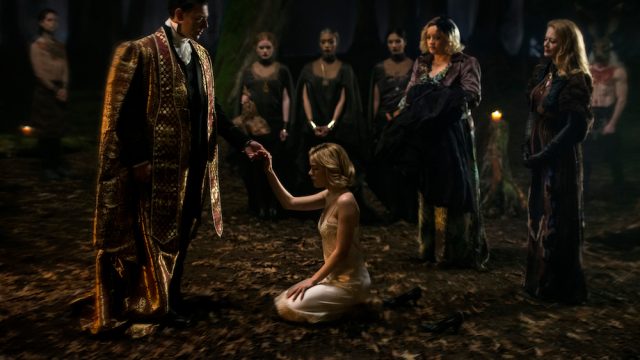 When you watch the trailer for Chilling Adventures of Sabrina, you get a sense of what you're in for in the new Netflix series: a dark baptism, an exorcism, a coven of witches, and a lot of eerie rituals. What you don't overtly see is just how feminist the show is in both big and small ways. But the second you start watching the series, you'll notice it right away.
Chilling Adventures of Sabrina is the feminist show we need right now. The girl power isn't forced or overdone; it just comes naturally in the dialogue, storylines, and character development. Sabrina uses her words, and they're incredibly powerful. At school, she starts a club for women to band together and talk about feminism: "Women protecting women. Sort of like a coven." She tells The Weird Sisters that she doesn't see them as her enemies: "We have no reason to hate each other." And she tells the witching community that she refuses to give up control of her body: "My name is Sabrina Spellman, and I will not sign it away."
This new incarnation of Sabrina fights to read banned books and forges her own path. At every turn, she questions traditional ways and always wants to know: Do I have a choice in the matter? And her friends are the same way. It's refreshing to see young women with the language to defend their bodies and their choices.
We spoke with Kiernan Shipka, a.k.a. Sabrina Spellman herself, about the feminist message of the show and how a team of women helped bring it to life.
"It makes me so happy. Every time I think of it and talk about it, I just get really excited, Shipka told HelloGiggles. "To be part of a show that simultaneously provides an escape from the real world, because it's in the timeless era, but also at the same time does not shy away from topics that are important to discuss and bring to the forefront, is awesome.
Shipka reiterated that Chilling Adventures of Sabrina isn't a feminist show just to be a feminist show.
"It's not something that's like, 'Here we are!' It just is. And I think that's awesome. [Feminism is] just a natural part of the show. I think a lot of that has to do with the fact that there are so many women writers. It's a pretty diverse writing room, and it makes all the difference in the storytelling.
In fact, Chilling Adventures of Sabrina has plenty of women behind the camera.
"We have female directors, female writers, females behind the camera. It's so wildly important. It's great to see the shows that are actively walking the walk with that kind of stuff. I know Ryan Murphy has his Half Foundation, which is an awesome initiative to make sure that the workplace is balanced. I was on one of his shows two years ago, and it really showed. You could really feel the energy difference. It's how it should be.
Chilling Adventures of Sabrina premieres on Netflix on October 26th.