Children's book author and illustrator Vashti Harrison wants Black girls to know "they too can be heroes"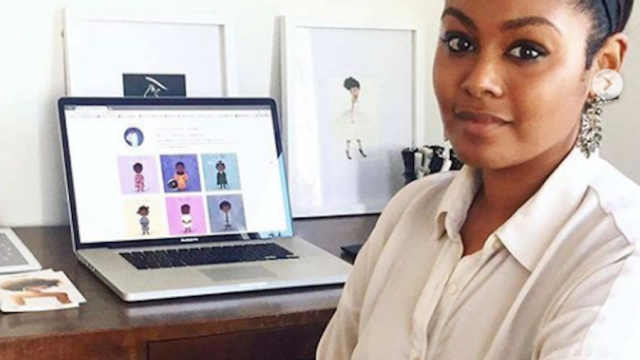 International Children's Book Day was on April 2nd. April is also Black Women's History Month.
Filmmaker-illustrator-author Vashti Harrison is on a mission, using her love for storytelling to ensure that women of color get fair representation in the publishing world, media industries, and beyond.
Filling in a gap that exists in the children's book market, Harrison's debut book, Little Leaders: Bold Women in Black History, showcases and honors 40 influential Black women who have helped shape history. Inside the book, young readers will find media mogul Oprah Winfrey, jazz singer Ella Fitzgerald, NASA mathematician Katherine Johnson, and many more "hidden figures," who are just as awe-inspiring but lesser known. The book is delightfully illustrated for a younger audience and helps Black girls put their future and capabilities into perspective. Realizing that there are incredible girls who look like them provides an opportunity to see the world as their oyster.
April is Black Women's History Month, and April 2nd marked International Children's Book Day. During this time of celebration for Black womanhood and literature, we caught up with Vashti Harrison to learn more about her inspirations, her work championing for Black female representation, and her upcoming projects.
https://www.instagram.com/p/Bbim7_TFg_H
HelloGiggles (HG): I remember when I saw the drawings for the short animation clip, Hair Love, on social media and I fell in love with your style of illustration. I came across your work again on social media during promotion for Little Leaders and realized that you're focusing on projects that put Black girls and women at the forefront. Can you talk about what inspires your work?
Vashti Harrison (VH): Well, I've always preferred drawing girls over anything else — just ask my mom since I have stacks of sketchbooks at home from middle and high school filled with drawings from fashion magazines! As I developed a love for storytelling though, I was drawn to telling stories of girls. I love creating magical worlds with my art and letting Black and brown girls go on adventures. Little Leaders was my first foray into nonfiction, but I was excited to celebrate and share the stories of these amazing women — stories you don't get to hear too often, especially all together. I think a lot about my younger self, the kinds of things I would have enjoyed and the kind of stories that would have been inspiring for me as a child.
HG: What inspired you to make children's books instead of focusing on adult literature? Was there an obvious gap in the market when it came to illustrated children's books?
VH: I have a background in filmmaking, and a lot of my work focused on fairytales, mythology, and folklore — particularly in my mom's home country of Trinidad and Tobago. Because I like to view the world through a more magical and whimsical lens, the connection to children's literature was always there, so when I started drawing again, it was an easy transition. Children's books offered me a place to expand on a lot of the ideas and stories I had brewing. I think there has been consistent growth in the number of diverse books over the past couple of years, but when I entered the industry, I could see there wasn't quite someone like me creating the kind of content I like, so I felt encouraged to pursue it.
https://www.instagram.com/p/BeJDkfBFo3g
HG: What were your favorite books growing up as a child? Do you remember noticing a lack of characters that looked like you?
VH: I don't have a strong connection to classic children's books that a lot of other authors and illustrators have. I definitely read a lot (Walk Two Moons, Ender's Game, anything Meg Cabot), but I didn't connect with the stories on a personal level. I can't quite say if it was because none of the characters looked like me, but that is true. I didn't have any books with Black girl protagonists until I got the Addie books from American Girl — but I didn't want to read about slavery. I've always loved contemporary stories about magical things happening to ordinary kids. None of those kids looked like me — I still loved them, but as I've entered this world of children's publishing I feel really driven to create diverse stories that can sit on the shelves next to the ones that were so fun for me as a young reader.
HG: You've included some incredible women in your first Little Leaders book. Do any particular women in the book especially inspire you?
VH: I do have a soft spot for the artists. I felt particularly connected to Augusta Savage's biography. Hers is truly a love story to her craft. She loved making art so much, even when her family forbade it, even though it meant a difficult life, she persisted. She struggled with finances and racism consistently through her career, but she somehow found a way. What's more is that she was a natural teacher, and she believed that her struggles were paving the way for more and better artists and that her legacy could live on in their success. I love that. I wish I could thank her.
https://www.instagram.com/p/BRolA_ulwAK
HG: What do you think reading Little Leaders will do for Black girls?
VH: I hope it inspires them! I wanted to include the stories of women from a wide variety of fields of study and backgrounds to show young readers that there are so many opportunities out there for them. Hopefully they feel encouraged to try new things, go after their dreams, or just get excited to learn about American history.
HG: Little Leaders hasn't just resonated with young Black girls — it has also been treasured by older women of different races in their 20s, 30s, and beyond. Did you hope to make the book's biographical information accessible for everyone?
VH: I'm really fortunate in that I have a lot of really supportive followers on social media — the analytics show me they are mainly women around my age. I get to hear firsthand what they like and what they want. So even before Little Leaders was a book, when it was just a series of posts on social media, they were the ones cheering me on, saying what I was doing was important, and that they wish they had something like it when they were kids. I knew I wanted it to be a book that they could enjoy and learn from as well as children. I took special care to make it a beautiful art object, something that you'd want to keep around and look at over and over again.
https://www.instagram.com/p/BdtEc7VFhn5
HG: Can you talk about how Black females are generally overlooked and underrepresented in media and publishing?
VH: The stories of Black women have always been overlooked in media and publishing, because they've been overlooked throughout all of history. They sit at the crossroads of two marginalized groups — women and people of color. They face pressures and setbacks in their lives constantly, making it harder to be heard and seen. Even when they have been represented in the past, it's rarely enough. There's so much homogeneity in the mainstream, and I think it's because people from marginalized groups have rarely had the opportunity to tell their own stories and create their own images.
HG: Do you think there will ever be a shift in the amount of representation Black women get — not just in publishing, but also in general media?
VH: I can only speak to what I've seen and experienced. I'm still pretty new to the world of publishing, but based on the kinds of messages I get from folks on social media and the conversations I've had at conferences and at publishing houses, I say yes. I think people are hungry to see more creative content that represents women and people of color in multifaceted ways. People are ravenous for something new, so I think if you are a creator with a new perspective to share, now is the time to unleash it. There will always be gatekeepers in the big industries, but things are shifting and clearly there is a market for new and diverse work.
https://www.instagram.com/p/Bf2U9XMFm4W
HG: Why is representation so important to you?
VH: In the introduction to the book, I write, "To be able to see yourself in someone else's story can be life-changing. To know a goal is achievable can be empowering." Representation is so important at such a deep level particularly in the content we create for children. When kids can see images of themselves and stories they can identify within the books they read at school and at home, they are offered a reminder that they matter and that there's a place for them in this world. It shows them that they too can be the heroes, go on adventures, and save the world. It's an affirmation that they exist, that their concerns are valid, and it's okay to be yourself. Once they realize possibilities not only just exist but are open to them — who knows what wonders they might unleash!
HG: Do you hope to pave the way for the next generation of Black female creators/writers/illustrators to follow your same creative path?
VH: I don't know if I would encourage anyone to follow my exact path — I spent a long time being scared and lost, doubting myself, and changing my mind — but I do hope that the stories of the incredible women in Little Leaders help young people on their journeys, no matter which kind of path they follow. I just want to make children aware of the possibilities that are out there for them, regardless of whether they already know what they love or haven't found it yet. I definitely have a soft spot for the creators and could only fit so many names into book one, so I am expanding on that idea in the next book, Little Leaders: Visionary Women Around the World (to be published on November 6th, 2018), where I highlight the stories of artists, inventors, and scientists!
https://www.instagram.com/p/BggZM5uFE0Y
HG: What do you hope people take away from your books, films, animations, and illustrations?
VH: Even though I create lots of different types of work for different audiences, throughout everything I'm always looking to capture something magical and translate that for others to see and feel. Everyone brings a little something of their own to the content they consume, so I hope my work just sparks a little magic inside of them. I think there's a lot of power in valuing the beauty around us and positively addressing problems or struggles in our lives and our society. So if I can help foster that in people with my work, I will!
***
Vashti, thank you for celebrating Black women and for bringing us to the foreground when we are so often left behind. If you haven't already picked up a copy of Little Leaders, please do! Vashti's second Little Leaders book, Little Leaders: Visionary Women Around the World will be released in November 2018. It's sure to be another remarkable book that commends female creators from around the world.