Lori Lightfoot just became the first openly gay and black female mayor of Chicago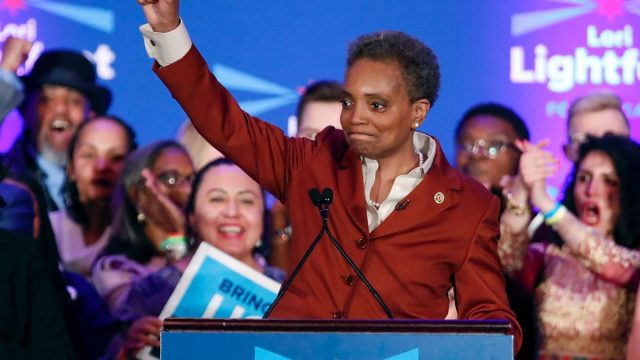 Update, April 3rd, 2019: Lori Lightfoot won the April 2nd election, and will officially become the first openly gay and black female mayor of Chicago. According to the Chicago board of elections, Lightfoot won by a large margin: She led Toni Preckwinkle 73.7% to 26.3% by the time 90% of the votes had been counted. 
Lightfoot highlighted the historic nature of the election in her victory speech, saying,
"Thank you Chicago! In this election, Toni and I were competitors, but our differences are nothing compared to what we can achieve together. Now that it's over, I know we will work together for the city that we both love. Today, you did more than make history. You created a movement for change."
Preckwinkle also acknowledged the importance of this moment. While speaking to supporters after the results came in, she said, "This may not be the outcome we wanted, but while I may be disappointed, I'm not disheartened, For one thing, this is clearly a historic night. Not long ago, two African-American women vying for this position would have been unthinkable."
All too often, politics is considered the realm of rich white men. But that's slowly starting to change. In the 2018 midterm elections, a historic number of women were elected to the House of Representatives, many of whom were also people of color. And in many cities, local politics are also becoming more inclusive and diverse. In fact, Chicago will elect its next mayor on April 2nd, and no matter who wins, she will become the first black woman to hold the title.
According to NPR, the two candidates in the race are Cook County Board President Toni Preckwinkle and Lori Lightfoot, a lawyer who also used to serve as the head of a police oversight board. Both women are black, and Lightfoot is openly gay, meaning that she could become the city's first out gay mayor as well (both candidates are Democrats). Preckwinkle is the head of the Cook County Democratic Party, while Lightfoot has campaigned on progressive issues and positions herself as a change from the status quo.
"I think it's more about (voters wanting) a break from the corrupt political machine," Lightfoot told USA Today. "Obviously, it's going to be historic because a black woman is going to be elected no matter who wins. But if I win, what it is going to speak to is the desire to really break from the past."
Meanwhile, Preckwinkle and her team have argued that her political experience makes her a better fit for the job.
"It's easy to talk about change," Preckwinkle told NPR. "Change is not easy. It takes hard work. It takes experience. Being mayor is not an entry-level job."
Today's election is technically a runoff. During the first round of elections in February, WBEZ Chicago reported that Lightfoot received 17.5% of the vote and Preckwinkle received 16%, making them the top two candidates out of a field of 14 and necessitating a follow-up election. In the most recent local poll, Lightfoot led Preckwinkle among prospective voters, with a margin of 53 points to 17.
No matter who becomes Chicago's next mayor, we're excited to see her make history. May the best candidate win.