This man got the whole Chicago Bulls cheerleading squad to help with his proposal, and our hearts are now puddles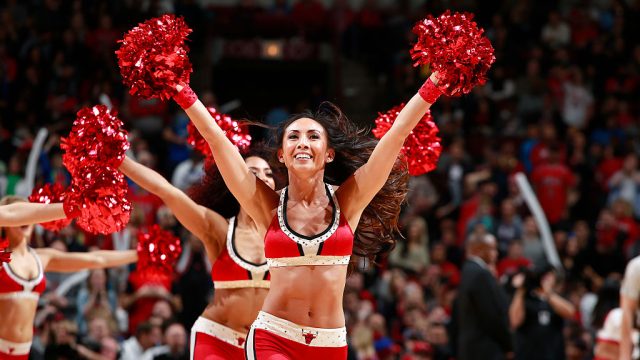 'Tis the season to feel all the feelings. A man proposed to his partner during a Chicago Bulls game, and our hearts are melted puddles of feelings. At Thursday night's home game against the San Antonio Spurs, Jake Conrad proposed to his boyfriend Michael Holtzman.
But he didn't do it alone — he had some help.
Conrad recruited the Bulls mascot Benny the Bull, the Chicago Luvabulls dancers, and the entire Chicago Bulls franchise, according to Outsports. Holtzman is a diehard fan, so Conrad obviously knew how to get a guy to say yes!
Here's how it went down:
Conrad took to Facebook to ask his friends if anyone had any connection to the Bulls offices because he had a very important question to ask them.
Luckily, Holtzman isn't on Facebook, so he didn't see the message. A friend put Conrad in touch with someone with the Bulls and they were able to set up an epic and crazy romantic proposal.
Bulls spokesman Ross Lipschultz explained everything to Outsports:
"At the Chicago Bulls game vs. the San Antonio Spurs on December 8, the Bulls worked with Jake Conrad to set up an in-game proposal for his partner, Michael Holtzman. Michael has been a lifelong Bulls fan and watches every game. After he once told Jake that his dream was to go to a Bulls game, Jake knew he wanted to propose to Michael at a game to show him how committed he is to making Michael's dreams come true."
Conrad bought tickets to the game and requested to purchase a fan experience package so he could propose. But since the Bulls were so touched by their story, they asked Conrad if he wanted to propose during the game — with thousands of people watching.
It turned out to be the absolute cutest proposal, and we can't stop crying.
Congratulations to the happy couple!