Who is Cherry Seaborn, Ed Sheeran's fiancée?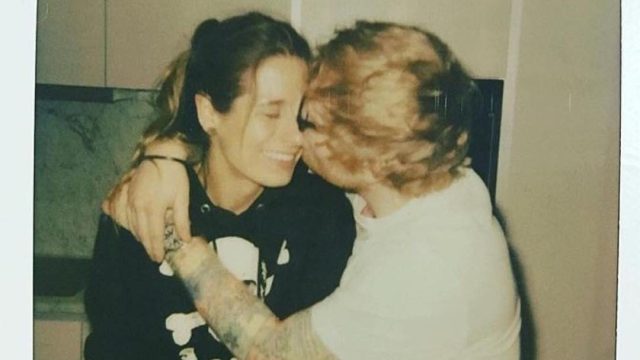 Early this morning, pop star Ed Sheeran announced that he's engaged! And not only that, but that he and his long-time girlfriend, Cherry Seaborn, have been engaged since 2017. The couple has been keeping the news quiet since before New Year's, but once they decided to share the news, fans freaked. In just a few hours, Sheeran's Instagram announcement has already racked up millions of likes. "WHAT, I AM SO HAPPYYYYY," one fan wrote, with another adding, "I'm so happy for you two!!!" (Others are lamenting the fact that they lost their chance with the singer now that he's officially off the market, and like, same. But we're still super excited for him and Cherry Seaborn.)
Sheeran had a pretty huge 2017. After all, not only did he release his newest album, Divide, in March of last year, Ed also recorded a duet with Beyoncé. (Freakin' Beyoncé, you guys! Queen Bey!) And he met Cooper Sheeran Smith, a fan's baby that had been named after him and was jamming along at one of his concerts. Both of those pieces of news are, uh, pretty hard to top (Beyoncé, you guys!). But getting engaged right before the new year strikes will definitely do the trick.
So, who is Cherry Seaborn?
The couple has been together for about three years, but if you haven't heard of Cherry Seaborn, that's because she's not exactly a celebrity. However, she is an avid hockey player who helped England's under 21 league win the bronze medal at the 2012 European Championships. These days, People says Cherry Seaborn is part of the finance world, working as a risk advisory consultant. In fact, it was actually partially because of her work on Wall Street that she and Ed got together.
"I've known Cherry since I was 11," the singer shared with People. "She worked on Wall Street in New York, and I had like six shows [around New York in 2015]. It was around then, and we reconnected. I went on tour again, and then I went to Taylor [Swift]'s 4th of July party. I was texting [Cherry], and she was like, 'I'm in Rhode Island at a 4th of July party,' and I was like, 'So am I.' I kinda said to Taylor, 'Can I invite one of my old schoolmates?' The rest is history."
So, does Taylor Swift approve?
Judging by the fact that Ed and Cherry celebrated their first anniversary with Tay at her best friend Abigail's engagement party back in 2016, we're gonna give that a big, fat yes.
https://www.instagram.com/p/BHfuyOzDwyc
Sounds like Ed owes Tay a big thank you — but judging by how cuddly she and Joe Alwyn got at Ed's concert last month, we're guessing the feeling is mutual.
It looks like Ed and Cherry are a perfect match.
A big congratulations to Ed Sheeran and Cherry Seaborn!
And, of course, their cats, who are apparently pretty chuffed about the news.
We're sending their happy family all of the love right now.