All of the celebs in Cher's feminist AF new music video—because there's a lot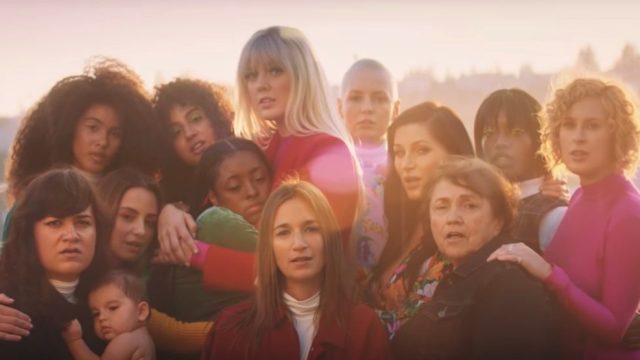 Here we go again. Cher, who recently starred in the Mamma Mia sequel, is gearing up to release an entire album of ABBA covers on September 28th. And today, September 19th, the icon gave us our first taste of what's to come, dropping her rendition of "SOS" and an accompanying music video.
According to Rolling Stone, Jake Wilson, who has also worked on music videos for Dua Lipa and Hayley Kiyoko, directed the video. Although Cher herself doesn't make an on-screen appearance, her rich vocals serve as the perfect backdrop to a celebrity-studded, all-female cast. The video has strong '70s vibes (lots of plaid and turtlenecks), as well as retro lighting, costumes, and camera angles that pay homage to the original video. It's also an epic homage to women supporting other women.
Some of the faces in the new "SOS" video might look familiar, so here's your guide to all the cameos:
https://www.youtube.com/watch?v=7T4rz4NsYjk?feature=oembed
Betty Who
https://www.instagram.com/p/Bn4O8PrlE-y
Wearing a white turtleneck under a plaid frock, Australian singer Betty Who is prominently featured in the "SOS" video. LA Weekly notes that Who has been making music for eight years and recently released a new album, Betty Who Pt. 1. She is best known for her breakout single, "Somebody Loves You," from the 2013 album Movement.
Trace Lysette
https://www.instagram.com/p/Bn4U4qLF7a9
Transparent star Trace Lysette also appears in Cher's "SOS" music video, wearing an all-black turtleneck ensemble. Lysette has been acting since 2008. Like her Transparent character, Shea, she is openly transgender. Lysette has also appeared on Law and Order: SVU and in Maroon 5's "Girls Like You" music video.
Rumer Willis
https://www.instagram.com/p/Bktft2AA2Kt
Actress Rumer Willis also has a cameo in the video, rocking blonde curls and a plaid blazer. Willis, who is the daughter of Bruce Willis and Demi Moore, has appeared in The House Bunny, Pretty Little Liars, and The Secret Life of the American Teenager.
Vella Lovell
Actress Vella Lovell makes a statement in "SOS" with her emerald-green eyeshadow and gorgeous curls (fans of Crazy Ex-Girlfriend will recognize her as snarky Heather). The Juilliard-trained Lovell also appeared in The Big Sick as Khadija, one of Kumail's potential suitors.
Sabrina Jalees
Comedian Sabrina Jalees appears in the video holding her baby, Wolfie. She is openly gay, and—in addition to her stand-up—she's a columnist for the Toronto Star.
Now excuse us while we watch "SOS" on repeat for the rest of the week and revel in its feminist glory.