Cher and James Corden sang an epic duet, and here it is because it's Friday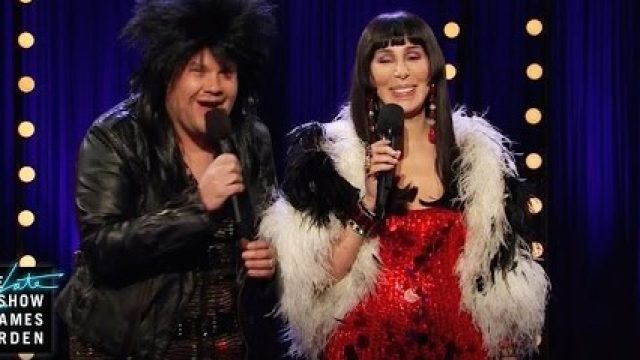 If you're in need of a Friday pick-me-up to appropriately kick off your wild(ish?) weekend, look no further. Solidifying his unofficial late night maestro title, James Corden and Cher sang an epic duet entitled, "I Got You, Bae" on the Late Late Show. And it is a literal joy to bear witness to.
If you're only slightly perturbed by the seemingly minor yet important change that was made in leaving the second "b," out of the "Babe" in "I Got You, Babe," don't worry, it was purposeful. Corden and Cher updated the classic hit.
Before you get upset over the change made to the immortal song, know that it's actually kind of great. Especially, as Vulture points out, if you're a millennial dating in the social media era. And really, at this point, who isn't?
https://www.youtube.com/watch?v=g1T3d2RDlW8?feature=oembed
Besides, not only is Cher singing it, she reveals to the audience that the tune is, "close to her heart." So we've totally got her blessing. It's cool to enjoy the new version just as much as the original.
Cher looks positively giddy as she sings,
"They say we're young and we don't know, how to find love without using your phone."
And, same for the host (dressed as Cher), who belts out an all-too-relatable lyric,
"Well I don't know if all that's true, cause you swiped me and baby I swiped you."
https://www.youtube.com/watch?v=BERd61bDY7k?feature=oembed
There's just enough realness balanced out with a healthy dose of lighthearted online dating jabs to make this rendition as funny as it is catchy. We're all just trying to navigate life and romance, and Cher and Corden are helping us find our way.
Thanks, guys.