For your consideration: Chelsea Peretti's awards season breast pumping posts should get ALL the trophies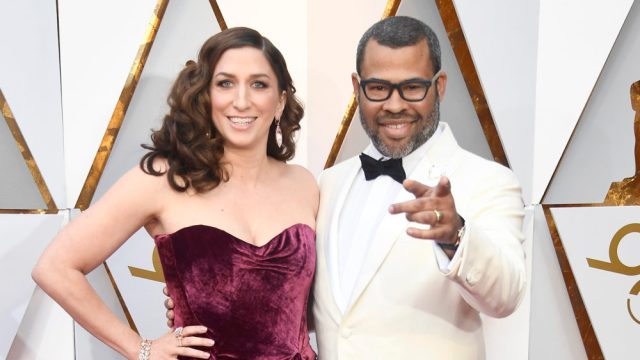 Chelsea Peretti has been breastfeeding through all of awards season and while she could fill her social feeds with #glam getting ready pics, she's opted to keep it real AF with the best kinds of #momlife content. Peretti attended the 2018 Oscars on Sunday, March 4th, with her husband Jordan Peele (who took home the award for Best Original Screenplay for Get Out), but she is the real hero (shero?) of the night. Peretti shared the obligatory red carpet photos but she also posted a photo from her hotel room of her breast pump backpack lying elegantly next to her gorgeous Dolce & Gabbana gown.
"OO OSCARS PUMPING COMPARTMENT COME THRUUUUUUUUUUUUUUUU," she captioned the photo.
This kind of content helps more people see how deeply normal it is to breastfeed and pump in public. Sometimes you have to go to the Oscars and pump and that's just life. Well, it's a highly elevated and, like, fancy "life," but you know.
Someone commented on her photo, "I love that you post about this! Keep it up! We need to reduce the stigmatization of breast feeding in our culture." Couldn't have said it better.
Before Peretti headed to the awards show, she posted a photo from a random trailer that she crashed to pump in and joked that she's "working on getting the EGOT of pumping locations" and also that "it will be my great honor to pump tonight at the Oscars."
Peretti has been breastfeeding through this entire awards season, and each time, her new mom social #content is on point.
At the 2018 SAG Awards, she 'grammed about forgetting a part of her breast pump and getting it Uber'd to the show.
At the Golden Globes in January 2018, the cameras caught her looking at her phone, but Peretti explained that she was checking her calendar so she'd know when it was time to pump.
Peretti is honestly the #RelatableKween we deserve.