Chelsea Handler speaks to us about using her privilege and platform to fight for what's right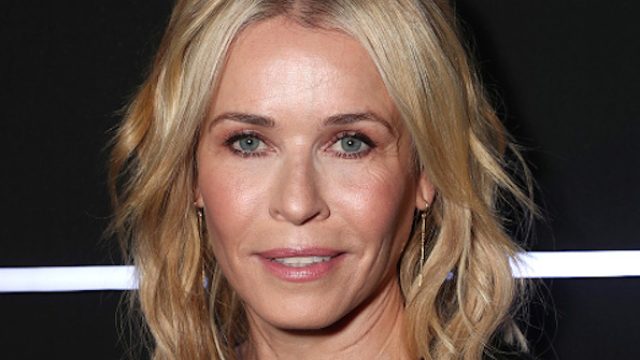 Chelsea Handler's political beliefs aren't exactly a secret — but she doesn't simply make jokes and call it a day. Instead, the Chelsea host has become increasingly politically engaged both on screen and off. From raising money for Planned Parenthood to sponsoring Syrian refugees, Handler is definitely someone who practices what she preaches.
In her on-set office after a recent taping of Chelsea in Los Angeles, Handler tells me that she has an obligation to use her platform to make a difference in any way she can.
One year ago, she spoke at the Democratic National Convention, and this weekend, Handler will headline Politicon, which HuffPost has dubbed "The Coachella of Politics."
She'll be featured in two programs over the weekend — a conversation with conservative political commentator Tomi Lahren, and an interview with CNN's Jack Tapper over cocktails.
Although people have been quick to describe Handler's conversation with Lahren as a "debate," that's actually not the case — it'll be an interview, similar to the ones she conducts on Chelsea each week.
"I'm interviewing Tomi Lahren about her life and how she got to where she is now," Handler says.
This isn't the first time Handler has made an effort to gain a better understanding of why 63 million Americans voted for Trump — something that continues to be a source of pain and confusion for many of us. For example, she went bowling with Trump supporters on a recent episode of Chelsea to gain some insight into what led people to cast their ballots for him. When I ask her about these conversations, her answer is candid.
"It's difficult, especially at this stage in the game. I'm at a point now where I understand voting for [Trump], but it's really hard to understand people who are still supportive after the behavior he's demonstrated in office," Handler tells me.
Handler has been criticized for being "too political," and her immediate response is that there's no such thing — especially because she has the platform and resources to make a difference. As a person of privilege, Handler won't be harmed by any of Trump's policies, and she says that's the exact reason she has an obligation to use her voice.
"[Privilege] is exactly why I do care. I have money for private healthcare. I don't have a child or husband to worry about. I'm not gay. I don't have any ulterior motive. I don't have any skin in the game, Handler says. "None of these things directly affect me, but I don't want to be the type of person that's only worried about what's happening to me. I want to be a voice and I want to be strong and steadfast about going after things for the right reasons."
The day after Trump's inauguration, Handler led the Women's March in Park City, Utah, and she describes it as one of the most powerful experiences of her life — not just because it was an amazing day, but because it set a precedent for what needed to happen next.
"I was there with a lot of good friends of mine and my sister and a lot of people from this job. It was just a great setting, and it set the tone for what has to happen. We can't become fatigued. We have to act. We have to sign these petitions and call our congresspeople. We just can't get tired. Pressure works," Handler says. "It's part of being an adult. We've gotta be what they aren't. He's not thinking about us, so we have to think about everyone around us."
The sentiment of not growing fatigued is emphasized by many of Handler's political guests, including the men who were interviewed during the taping I attended. Former Obama staffers and the current hosts of the podcast "Pod Save America" — Jon Favreau, Tommy Vietor, and Jon Lovett — reiterate that activism is working.
"They would have already repealed Obamacare right now if it hadn't been for all the activism that was out there," Favreau said. "It's easy to feel hopeless with the news every day, or get tired, but what we've seen is that at least some of these senators and [congresspeople] do respond to pressure. It's our job to keep up that pressure..."
https://www.youtube.com/watch?v=8B2ihh71mMQ?feature=oembed
In the months since Trump's victory, Handler has traveled to college campuses to speak with students and emphasize the importance of being politically engaged. The appearances are town hall-style, which allows people to ask questions, express their opinions, and have open conversations.
"There are a lot of people who didn't vote for the president because they couldn't choose between Hillary and Trump," Handler says. "I find it appalling, but I want to understand it better."
Handler is also working with the The Karam Foundation, a non-profit whose mission is to help refugees. She learned about the organization during a photoshoot for The New York Times Magazine and immediately wanted to become involved. 
"There was some terrible headline that day about refugees and I was horrified. So I asked someone what I could do to help, and he set me up with the woman who runs The Karam Foundation," Handler says.
She explains to me that the organization offers myriad ways to support refugees. You can buy them cars, pay for English lessons, and fund necessities like food and clothing. Handler currently sponsors multiple refugee children and, although she finds it incredibly rewarding, she isn't clamoring for face-to-face meetings with those she helps.
"I have a problem with people thanking me. I don't want them to think they owe me anything, Handler explains. "I'm really only good for two things: Money and entertainment, if you find me entertaining. I'm useless at everything else," she adds in her trademark self-deprecating sense of humor. "So, you know, I like to throw my weight around where I can.
Handler has interviewed multiple "up-and-coming" Democrats during Season 2, so I can't help but ask if there's any particular person she hopes will run for president in 2020.
"They say everybody is going to run, but I really love Kirsten Gillibrand. She's a bright spot. I read her memoir (Off the Sidelines) before interviewing her, and she's like a firecracker, Handler says. "She's all Americana, she curses, she's real. I can see her appealing to a wide variety of people."
Handler strongly believes there's no such thing as being too political right now. I couldn't agree more, but I ask if she ever feels the need to disconnect from the news for a few hours and relax. Although Handler credits her two rescue dogs, Chunk and Tammy, with "keeping her chin up," she says watching the news is actually therapeutic for her. 
"You know, I think my coping mechanism is watching the news, Handler tells me. "It helps me to watch it and to see how irate people get about what's happening. It gives me comfort that I'm not the only person who thinks what's happening is wrong. It's comforting that so many other people are as upset as I am, and they're out there fighting for what's right."
And if there's anyone who knows a thing or two about fighting for what's right, it's Chelsea Handler.