Chelsea Clinton clapped back at the National Enquirer for all those outrageous Hillary covers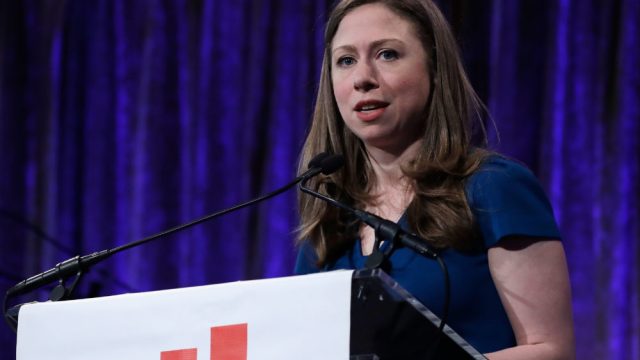 It's hard to believe the presidential election was nearly two years ago. While flashbacks to election night may make you shudder, reminiscing over some of the outrageous rumors that tabloids spread about Hillary Clinton over the course of her campaign will make you scream. And Hillary's daughter evidently feels the same way. Chelsea Clinton just clapped back at the National Enquirer for the numerous fabricated stories the outlet wrote about her mom—and her sassy message is the best thing you'll read all day.
On Thursday, a QZ reporter named Heather Timmons tweeted out a collage of National Enquirer covers that Politico published in February 2017. "An amazing photo spread shows how the National Enquirer covered Hillary Clinton's campaign," Timmons tweeted. The covers included insane (and irresponsible) claims, like that Hillary planned to start "World War 3," that she had a "nervous breakdown," and that she had "six months to live."
Chelsea Clinton spotted the tweet and posted the following:
"I'd missed the lung cancer cover, the stroke story, the one about my mom @HillaryClinton's hitman (possibly my missing alien sibling?!) and goodness, I think all of them actually. As always, thankful for my mom's enduring health, grace, grit & goodness."
So, why exactly is this Chelsea Clinton tweet so relevant right now?
As ABC News pointed out, federal prosecutors granted immunity to David Pecker, the chief of the company that publishes the National Enquirer (and friend of one Donald Trump) on Thursday, August 23rd. Prosectors granted Pecker immunity on the condition that he give them information on Michael Cohen, Donald Trump's former attorney. Pecker is considered a "key witness" in the case regarding Cohen reportedly paying off two women with whom Trump allegedly had affairs, The New York Times reported.
Basically, we're bowing down to Chelsea Clinton right now. This clapback was a long time coming.