Iconic chef Jonathan Waxman gives us the scoop on two decadent ice cream dessert recipes you need to make before summer ends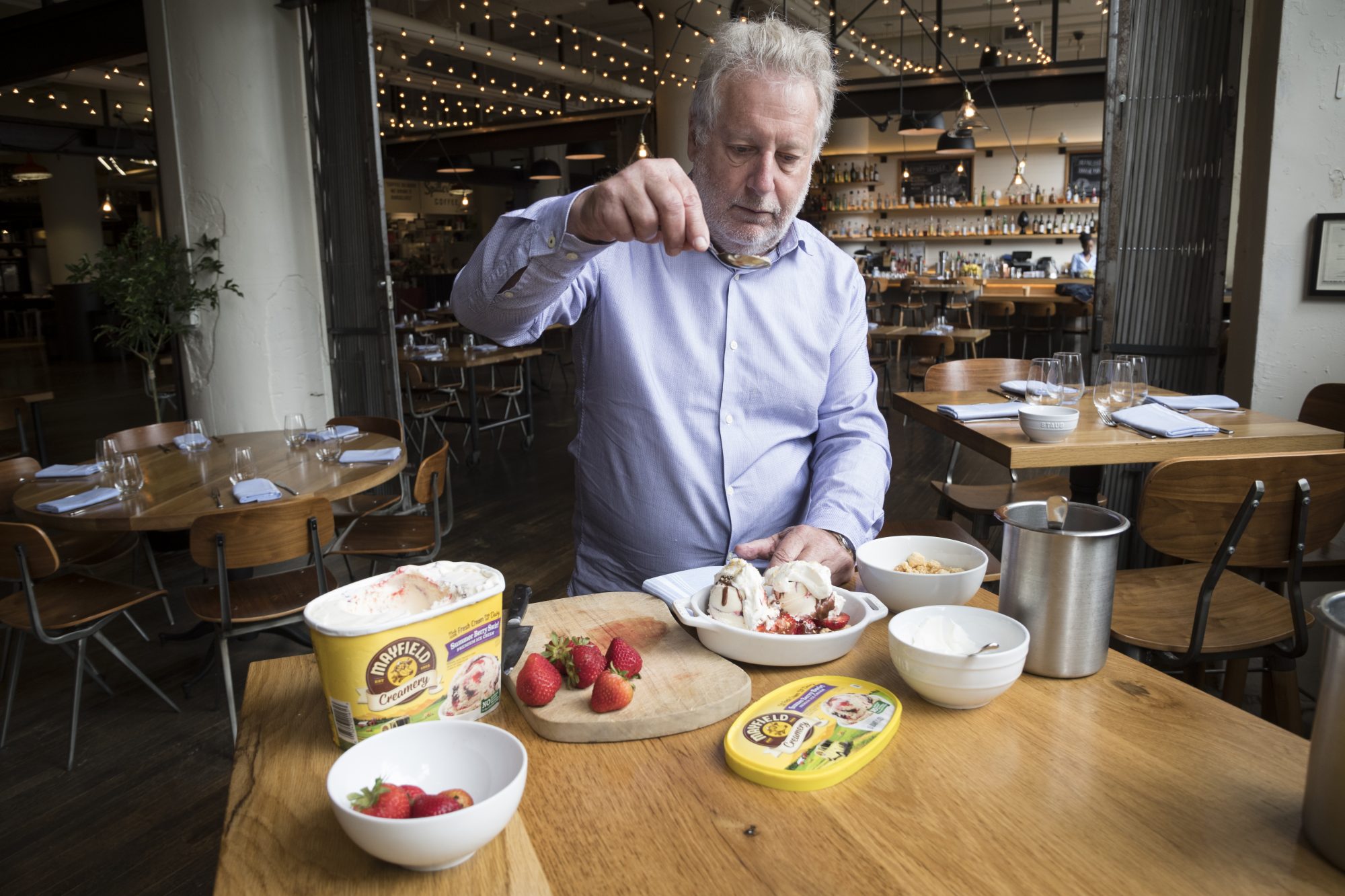 A casual food consumer may recognize Jonathan Waxman from television, where he has appeared in guest judge roles on Top Chef and as a contestant on the show's descendent series: Top Chef Masters, during which he finished in fourth place. The seasoned foodie's ears, however, will perk over Waxman's name because of his restaurants, his food philosophy, and his living legacy, which exists in California cooking that is not only endemic to the West Coast but in the menus and style of fine dining restaurants all over the world.
Waxman is known for his fresh, produce-driven approach to food, and for his New York City restaurant Barbuto, which is still a mainstay of the city's kinetic food landscape. But he is not immune to the temptations of dessert and nostalgia, which is apparent in his latest partnership with Mayfield Creamery—an ice cream company that offers classic and non-classic flavor profiles—to develop cold, satisfying desserts for his Atlanta restaurant Brezza Cucina (available from now until Labor Day).
In the next year, the James Beard Award-winning chef is returning to his California roots (he first made a name for himself at Chez Panisse, a groundbreaking NorCal eatery in Berkeley, before opening the longstanding Michael's restaurant in Santa Monica) with plans to open a restaurant in Los Angeles. Read on to learn his favorite summer flavors, both savory and sweet, why milkshakes are his most enduring summer food memory, and two exclusive Mayfield x Brezza ice cream dessert recipes.
HelloGiggles (HG): Tell us about how the Brezza Cucina and Mayfield Creamery collaboration came to be. What about their ice creams appealed to you? 
Jonathan Waxman (JW): I love and treasure authenticity. Mayfield Creamery offers a product that uses real cream from their own dairy and great ingredients. The fact that they have been around since 1923 is testament to Mayfield's success. It is a good match, Brezza and Mayfield. Having an outpost in Atlanta means that I love embracing southern culture, products, people and atmosphere. Mayfield is a perfect fit for us, a southern product with integrity plus a long-standing presence in the South. And who doesn't love great ice cream?
HG: Obviously, we have to ask: what's your favorite ice cream flavor?
JW: I am actually not so specific. I really love all of Mayfield's flavors. I like the classics, but the Summer Berry Swirl has just the right amount of berries. The Smoky Mountain Fudge is way too good—I can't stop eating it.
HG: What are the two new desserts you created with Mayfield for the restaurant and how did you develop them? 
JW: When planning my summer menu, I knew I wanted to take classic Southern recipes folks in Atlanta would love, but make them with a twist. It's what I do with my current menu at Brezza Cucina: it still incorporates my strong Italian roots while infusing bold, Southern flavors. Mayfield allowed me to get creative and I was inspired to create a Fudge Swirl with Mayfield Smoky Mountain Fudge, with crushed peanut brittle, blackberries, and caramel cream, and a Fontana with Mayfield Summer Berry Swirl, which has whipped cream, crushed shortbread cookies, sliced strawberries and milk chocolate drizzle. Both are the perfect ending to a great meal.
HG: What flavors should novice ice cream makers mine for their homemade creations this summer? What flavor combinations work best together?
JW: I am a big fan of vanilla and chocolate, but strawberry is a close third. (Editor's note: classics for a classic.) Vanilla just needs some Georgia peaches, sprinkled with brown sugar. Chocolate is great with blackberries and blueberries, topped with whipped cream. Strawberry is fantastic on its own, but I love using simple sugar cookies as a sandwich.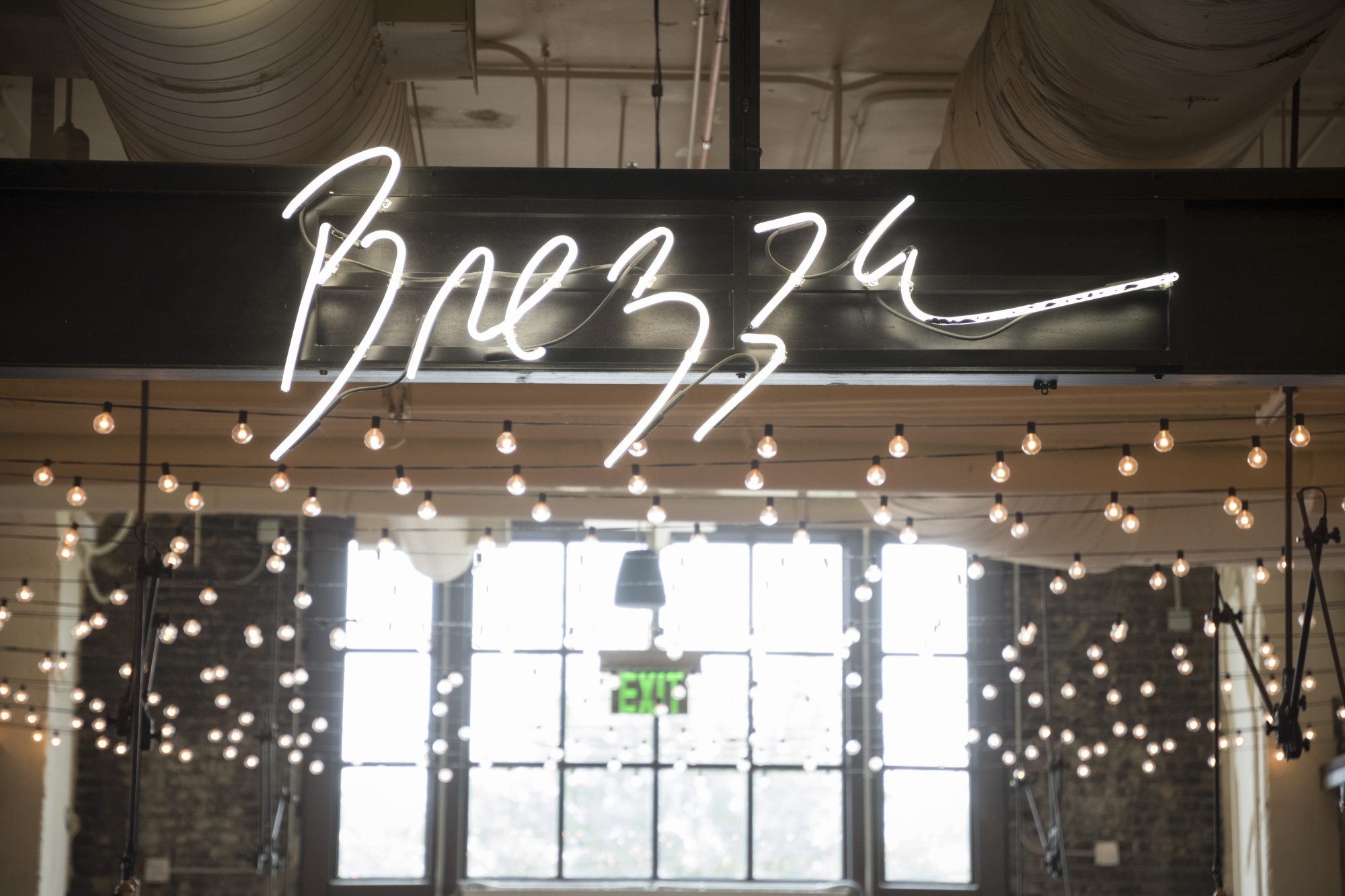 HG: Do you have a nostalgic, enduring summer ice cream memory from childhood or your teen years? Tell us about it.
JW: I grew up in a quintessential suburban household. We always had ice cream in the freezer. The walk home from the playfield was hot, arduous, long, and steep. I was always famished when I got home. I invariably would make a milkshake. Into a blender would go three scoops of vanilla (or chocolate) ice cream, a cup of milk, two teaspoons of cocoa powder, and I would occasionally add squirt of vanilla extract. Pulse the blender a couple of times, dump into a tall glass, and enjoy.
HG: What are your favorite summer foods? What makes them irresistible? 
JW: Gosh, the summer is such a time for food. I love whole grilled fish with sweet corn and roasted peppers. I adore pizzas with squash blossoms, cherry tomatoes and Parmesan. I think of paellas with shrimp, lobster, chicken, chorizo, heirloom tomatoes, clams, mussels and saffron. I also love grilling steaks with grilled eggplant, zucchini, Vidalia onions, and new potatoes.
HG: Tell us the best kinds of cold dishes, sweet or savory, to make for a summer gathering.
JW: One, cold grilled King Salmon salad with cucumber, avocado, cherry tomato, and fried onions. Two, baby watermelon with feta cheese, mint, yogurt, and peanuts. Three, strawberry soup with raspberries, peaches, and apricots sweetened with maple syrup. Four, cold chicken salad with diced raw zucchini, scallions, tomatoes, carrots and cooked beets tossed with basil, parsley, lemon and apple cider vinegar, coddled egg, and olive oil.
HG: What are some future projects we should look forward to from you and your restaurants?
JW: I am opening a new restaurant in Los Angeles, hopefully by January next year. I have two new books that could exist fairly soon as well.
HG: Do you have more ice cream dessert ideation in the works?
JW: Always. I am constantly dreaming.
HG: Is there ever such a thing as too much ice cream?
JW: Never! Ice cream is the greatest recipe ever devised.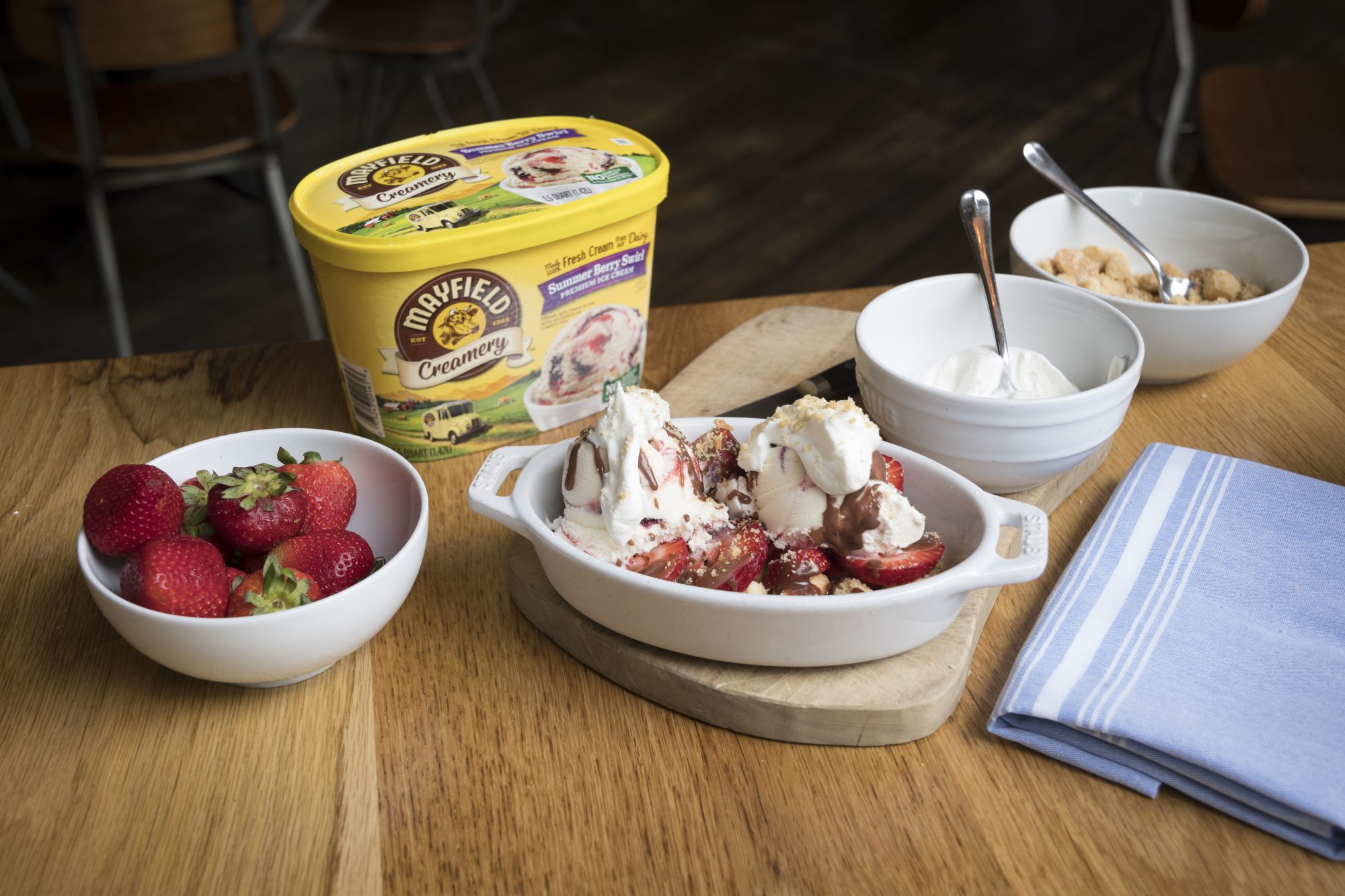 Two Mayfield x Brezza Cucina ice cream dessert recipes, by Jonathan Waxman:
Mayfield Summer Berry Fontana, with whipped cream, crushed shortbread cookies, sliced strawberries, and milk chocolate drizzle
1 cup + 3 ounces heavy cream
1 cup crushed shortbread cookies (I like Walkers)
1 pint washed, husked and sliced strawberries
4 ounces milk chocolate chips
1 large scoop Mayfield Creamery Summer Berry Swirl ice cream
1. Whip the cream and add 1 teaspoon powdered sugar and a drop of vanilla extract.
2. Crush the shortbread cookies.
3. Melt the milk chocolate in a small pan with 3 ounces heavy cream. Heat on low and stir until melted.
To assemble:
In a bowl, add two tablespoons shortbread cookies, 1/4 cup sliced strawberries, 1 large scoop Mayfield Creamery Summer Berry Swirl ice cream. Then drizzle 1 tablespoon of milk chocolate sauce and a dollop of whip cream on top and serve.
Mayfield Smoky Mountain Fudge Swirl, with crushed peanut brittle, blackberries, and caramel cream
1 pint washed and dried black berries (sliced in half)
Peanut Brittle: (or buy store bought)
2 cups sugar
1 cup light corn syrup
1/2 cup water
1 cup sweet unsalted butter, cut into chunks
2 cups raw Georgian peanuts
1 teaspoon baking soda
1. Butter two cookie sheets with rims – 15 x 10 in.
2. In A heavy, 3 quart – ceramic or stainless steel sauce pan, add the sugar, corn syrup and water. Bring to a boil, then reduce to a simmer. Stir with a wooden spoon. Cook for 10 minutes on low.
3. Place the butter into the sauce pan. Continue to cook for 15 to 20 minutes or until candy thermometer reaches 280°F.
4. Immediately add the peanuts and continue cooking, stirring constantly for 10 to 12 minutes or until candy thermometer reaches 305°F or small amount of mixture dropped into ice water tastes like brittle. Remove from heat and stir in baking soda.
5. Pour mixture immediately onto prepared sheets; spread evenly to about 1/4-inch thickness. Cool completely.
6. When cool, break into chunks. Store in a glass container with a lid.
Caramel Cream:
1 cup Brown Sugar
4 Tablespoons butter
1/2 cup heavy cream
1/4 teaspoon sea salt
1. Mix all ingredients in a medium saucepan over medium-low heat.
2. Cook while whisking gently for 8 minutes, until thick.
3. Serve warm.
To assemble:
In a sundae glass, add one tablespoon caramel sauce, 4 blackberries, a scoop Mayfield Creamery Smoky Mountain Fudge ice cream, then crumble some peanut brittle on top. Repeat and top with a tablespoon caramel sauce.