There was a "Cheetah Girls" reunion because they are sisters who stand together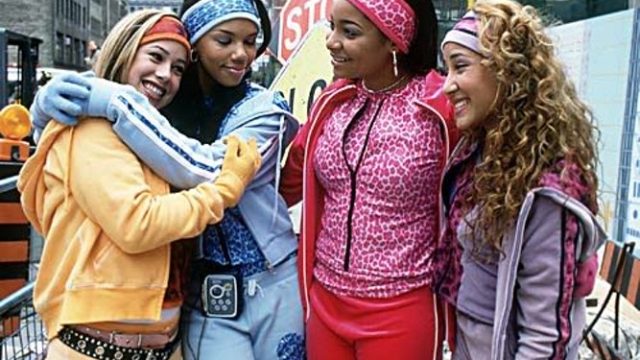 Thanks to a beautiful December wedding, the Disney Channel's Cheetah Girls had a reunion. Now, before you get too excited, we don't mean to mislead you since only two out of the four Cheetah Girls were there. But still, knowing that Kiely Williams and Sabrina Bryan are besties in real life is pretty amazing, so it's OK that Raven-Symoné and Adrienne Bailon weren't there too.
Williams, who played Aquanette Walker (aka Aqua), got married on December 17th and had Bryan, who played Dorinda Thomas (aka Do), by her side as a bridesmaid. (On a related note, Bailon just got married in November!) Bryan shared her excitement about traveling to her best friend's wedding on Instagram.
Once the women were reunited, they used the Snapchat reindeer filter to post a video of the two of them. It's adorable that Bryan seems almost more excited than Williams that her BFF is getting hitched.
Actually, based on her Instagram, Bryan has been pumped for her friend's wedding for a while, sharing pictures from the bachelorette party.
And the wedding invitation. We LOVE that gold!
Once the big day finally came, the wedding looked gorgeous with Williams marrying her fiancé Brandon and celebrating at the spectacular-looking The Elms Hotel and Spa near Kansas City, Missouri.
Williams' niece even sang "Cheetah Love" at the reception from the third and final Cheetah Girls movie, The Cheetah Girls: One World (the one without Raven-Symoné). Too cute!
https://www.instagram.com/p/BON5YdiA1cj
And I'm sure Williams was glad to have her good friend there to celebrate with.
https://www.instagram.com/p/BOLveHLl3e9
Honestly, the Instagram accounts of Williams and Bryan are pretty much always like a mini-Cheetah Girls reunion with both of them giving shoutouts to their long friendship.
Congrats to Williams and her new hubby! And to Bryan who was just so happy to see her best friend be so happy. That's what Cheetah Love is all about. ❤️