The power of three will set you free — and so will the new Charmed trailer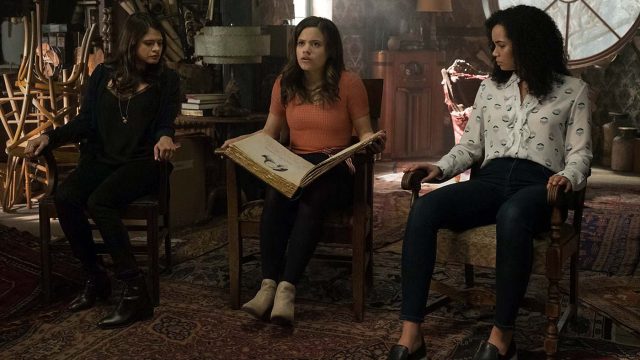 The Power of Three is back on TV. During their 2018 Upfront presentation, The CW unleashed the trailer for the upcoming Charmed reboot, offering us a glimpse of what to expect on the series and introducing us to a fresh set of characters. While many from the original cast of the show have previously expressed their disapproval for the new version, Charmed 2.0 looks promising, NGL.
The trailer starts off with Mirasol giving her daughters, Maggie (Sarah Jeffery) and Mel (Melonie Diaz), a heartwarming pep talk. "I feel so lucky to be the mother of two special young women — special in such different ways. Always remember that. You're better together, your differences are your strengths, and nothing is stronger than your sisterhood, so nurture that," she says.
The story starts to change its course when Maggie and Mel receive a text from their mother telling them to come home immediately. When they get there, they find her dead, appearing to have fallen from the roof of the house. Unsurprisingly, the police dismiss the incident as foul play, but Mel refuses to accept that. While in the two sisters are in the middle of an argument, they get a knock on the door from a stranger — their long-lost older sister, Macy (Madeleine Mantock).
As they're trying to make sense of what's happening, their hidden powers start manifesting out of nowhere: Mel with the ability to freeze time, Maggie with telepathy, and Macy with telekinesis.
Thanks to Harry Greenwood (Rupert Evans), their self-proclaimed advisor, the three find out that they come from a line of witches and that they are indeed The Charmed Ones. They also find out that they now have the responsibility to fight off demons and other dark forces to protect humankind.
Watch the full trailer below:
https://www.youtube.com/watch?v=loWpbevW9xg?feature=oembed
In a statement made to the press, The CW president Mark Pedowitz says he hopes viewers — including longtime fans of the series — give the reboot a chance.
"It is not quite the same, yet there are many similarities. Hopefully they'll give it a shot," he says. "We are happy with who we cast, we think it's a nice mix. We're thrilled that Jennie Snyder Urman has reimagined it somewhat and I can only say to fans: Before you make a decision, watch the series."
No word yet on when we'll officially get the chance to meet the Vera sisters, but it's slated to air this fall on Sundays at 9 P.M.