Charlotte Tilbury blessed us with a restock of her iconic Bar of Gold highlighter
We have no problem admitting that we are unabashed Charlotte Tilbury fans! We adore all of her products as well as her aesthetic, so you better believe that we are beyond thrilled to see that her iconic Bar of Gold highlighter is back in stock! Is there anything more tragic than when your favorite makeup product is nowhere to be found? (Okay, maybe the entire state of the world right now, but you catch our drift!)
We've been waiting with baited breath to see if and when this best-selling illuminating highlighter would come back, and it's  just the pick-me-up we all need these days!
You can snag this ultra-pigmented highlighter for $42, here.
This shimmering gold bar gives you intense illumination wherever you use it! Its flecked, iridescent texture makes for an absolutely stunning glow.
We have a feeling that these will sell out fast, so if you're looking for that perfect highlighter to brighten up your days, you need to jump on it ASAP!
https://www.instagram.com/p/BPxvokhjP6H
Besides the obvious fact that the highlighter is an incredible product in and of itself, we will never get over the fact that it looks like a literal bar of gold. Our packaging-obsessed hearts are positively drooling over it!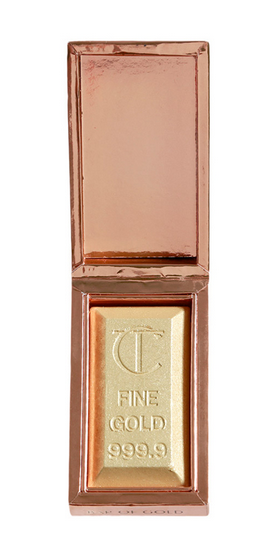 Have you ever seen anything more divine? Sometimes we need a little glamour in our makeup products too! It'll look perfect on all of our vanities.
If you're like us and need one of these immediately, run over to Tilbury's site and snag one for yourself. We are almost certain that these beauties will be gone before we know it!