Somehow, Charlize Theron revamped her bowl cut to make it even more chic
Update, October 16th, 2019, 11:55 a.m. EDT: Okay, has hell frozen over and are pigs currently flying? We ask because Charlize Theron is making a bowl cut work. It's the year 2019 and the cut previously known as a childhood hair disaster (there's even a Pen15 storyline about it) is suddenly impossibly chic, and we don't know what to believe anymore.
Theron has been working a bowl cut since early September, but her latest styling is truly next-level. The Bombshell actress's stylist, Adir Aberge, slicked back her short hair and shared the look on Instagram.
"Androgynous hair vibes tonight on my boo," Aberge captioned his post. Check out the slick style in even more detail below: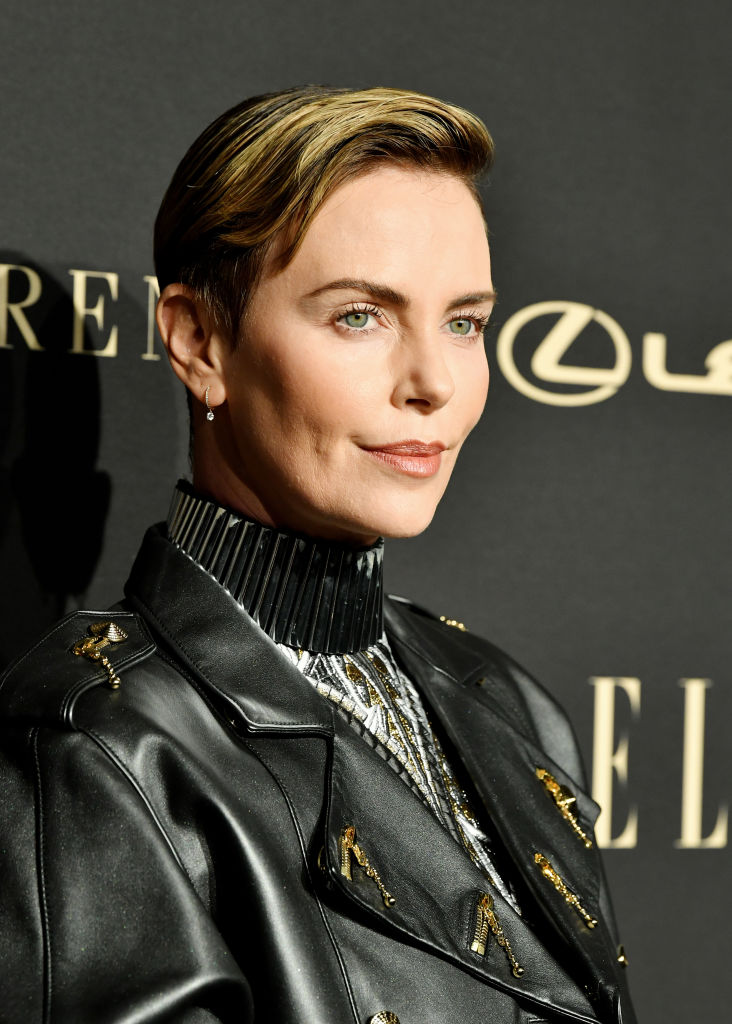 Theron looks amazing, as always. Now, all of a sudden, we're actually considering a bowl cut of our very own.
Original post, September 3rd: For most of us, the bowl cut is one of those hair disasters we experienced in our younger years that we'd like to burn from our collective memories. (Along with any photos that might still exist from that period in time.) You might think it's impossible for a bowl cut to look good on anyone. But Charlize Theron just debuted a mushroom-inspired cut on Instagram, and it looks downright amazing on her. Yes, we're serious.
Lately, Theron has been sporting a brunette bob, a definite departure from her signature blonde hair color.
She's making a strong case for the bowl cut with her bold new look, and we are hair for it. Theron shared a photo of her new cut to Instagram on Monday, September 2nd, revealing that it's for her role in the upcoming movie Fast & Furious 9. She's reprising her role as the badass Cipher, a cyberterrorist who jumped out of an actual plane in The Fate of the Furious…NBD. For her debut in the Fast and Furious franchise, Cipher wore long blonde dreads, meaning this hair switch-up is a serious departure.
First, here's Theron's recent real-life look, a textured chestnut-colored wavy bob that we're obsessed with.
Then, here's Cipher in her Fast 8 look, giving all the super spy vibes with a fierce blonde pony.
Finally, without further ado, here's Cipher's brand new brunette bowl cut, complete with honey blonde highlights.
Theron captioned the pic, "She's baaaaack." She also posted a photo of her chair on set, and we're so excited to see what she has in store for us in Fast & Furious 9.
Though it's unclear if the style is her actual hair or the work of a flawless wig, Theron's stylist Adir Abergel found inspiration in supermodels like Linda Evangelista and Cindy Crawford when creating the look. He shared a photo of the two models from 1989 sporting their own version of the bowl cut, and we've gotta say, we're fully inspired by all the vintage hair vibes we're seeing.
Sadly, we'll have to wait until May 22nd, 2020 to see Cipher's bowl cut in action. But here's hoping that Theron shares more behind-the-scenes photos from the set, because we need to see this fierce cut in all its glory as soon as possible.