This is maybe the weirdest cast memory from the 20th anniversary of "Buffy"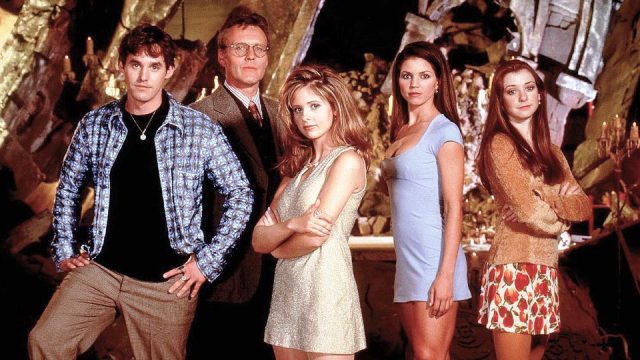 It's been 20 years since Buffy the Vampire Slayer first hit the small screen. And we can't believe how fast time has flown! To celebrate, the former castmates have been reminiscing about the good ol' days, keeping fans in the loop. But, things got weird when Danny Strong talked about the time he got spanked by a costar, and liked it.
We expected to have some tears, some laughs, and maybe to see some awesome memes floating around. But, definitely not this. This memory is one for the books.
Buffy fans know Danny Strong as Jonathan Levinson.
He was a member of the Trio along with Tom Lenk (aka Andrew Wells) and Adam Busch (aka Warren Mears).
Strong told the A.V. Club that his weirdest Buffy memory happened early on in his run.
An ordinary day turned weird when one cast member gave him a slap on the butt!
"It was early in my run on the show, and I was walking by Charisma Carpenter, and, I don't know why, but she spanked me," Strong said. "And then I turned to her, and I said, 'Do it again.' And then her eyes lit up, and she spanks me again. That's when I knew I had picked the right career choice."
And to tell you the truth, we're a little jealous of Danny Strong right now.
Not only is Charisma Carpenter an awesome actress, she's also a total glamazon.
It was a weird moment to hold in such high regard, but we're happy that he shared it with us!