Channing Tatum supports his wife Jenna by reading "Cosmo," and it's totally sweet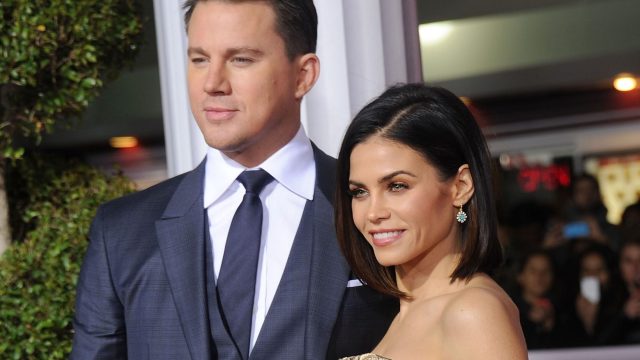 It's not often you see a guy like Channing Tatum reading Cosmopolitan Magazine (which isn't to say guys like Channing Tatum DON'T read Cosmo, because men and women can read whatever they want and don't need to be confined by social constructs). But Channing will do a lot to support his awesome wife, because they're totally in love.
Plus, Channing constantly reminds social media how much he loves his wife with adorable posts. The couple even performs in epic Lip Sync Battles together. So Channing has shown that there's basically nothing that he wouldn't do for the fabulous Jenna. Including reading about "If Your Boobs Could Talk."
And just recently, Channing posted the sweetest picture of himself reading the Cosmopolitan Magazine with his wife Jenna on the cover.
https://www.instagram.com/p/BOVgriih8nU
"I don't always read magazines, but when I do, it's the @Cosmopolitan with my incredibly beautiful wife on it. Proud of you @jennaldewan"
OMG what a cute post. Jenna of course looks stunning on the cover of January's Cosmo. The articles previewed on the magazine cover that Channing reads include "Next Level Sex" and "Shape an Epic Ass." Although we're pretty sure Channing and Jenna have both of those topics covered. Channing definitely looks a little silly reading the magazine, but we love that he's willing to do that when it means supporting his fabulous wife. And based on his face, once Channing started reading, it looks like he got pretty invested in the articles.
Here's a closer look at the magazine Channing reads.
Maybe Channing really needs to know "4 Magic Words to Bring Out His Feels."
Of course, this is just one of many adorable posts where Channing pronounces his love for Jenna. 
https://www.instagram.com/p/BNkvuvchyG7
This couple has been pure #relationshipgoals for their entire marriage.
We love that Channing always knows just what to do to show his wife how special she is.
Yeah, that and also showing off Jenna's fabulous magazine covers.