Channing Tatum came up with "stripper names" for fellow actors, and it's giving us life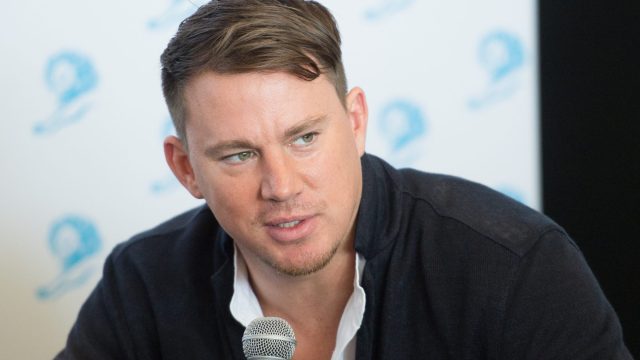 Little known fact about Channing Tatum: He used to be a stripper (and not just in Magic Mike, but for realz).  Which is why we're 100% all about watching him come up with stripper names for fellow actors (courtesy of E! Live From the Red Carpet). Cuz, hey, he would know, right?
So in the super quick quiz, Tatum drops stripper names for Harry Styles, Justin Bieber, Chris Pratt, Jonah Hill and more! And he gets pretty creative; some names are silly like Grabby McGrabbington (for Nick Jonas, as seen in his new Calvin Klein ad), and others are totally simple and sexy like Mr. West (for Kanye, of course!). Here, take a look:
https://www.youtube.com/watch?v=mqY3pqa_9jM?start=11&feature=oembed
LOVE THIS. We wouldn't be surprised if some of these nicknames catch on (also, can we take a moment to acknowledge that Channing would call pal Jonah Hill, "The Unicorn.").
And say hello to "Rusty Sparkplug"!
via giphyWhen it came to the Biebs, Tatum went for a literal name: "The Tattooed Kid." Appropriate, that's for sure.
Hey, Tatum knows best! TBH we totally feel like watching Magic Mike right now.
Thanks for ensuring our Friday is a happy one, Channing.
https://www.instagram.com/p/-r2kQBgCKu
Now off to go play this name-game with our friends (preferably over cocktails).